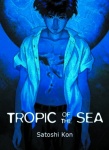 Tropic of the Sea TP (Manga)
Publisher: Vertical
Release Date: September 2013
Price: $14.95
Creator: Satoshi Kon
Format: 236 pgs., B&W, Trade Paperback
ISBN: 978-1-9391-3006-8
Age Rating: N/A
ICv2 Rating: 3.5 Stars out of 5
The creator of this work is oddly apologetic in the author notes, but probably because it came out so long ago. This very-delayed translation was first gathered into book form in Japan in 1999, after being serialized in 1990. Satoshi Kon has nothing for which to apologize.
The story is an odd fantasy taking place in a little fishing village in Japan. Rich bad guys want to come in and build a resort which will bring in lots of money, but also destroy the culture and heritage of the village. The village has a tradition that a mermaid watches over the fisherman, and one family knows that this is not just a legend, but fact. Unfortunately, one family member has steadfastly refused to believe, and he brings everything crashing down, as things go wrong.
Satoshi Kon's writing and artwork are crisp and clean, and tell an enjoyable story in a way that works well. Anyone who is already a fan of serious manga will find this stand-alone work to be a refreshing change from the tendency toward series that take 20-50 volumes to get started.
Complex themes and some violence suggest this for teens and up.
--
Nick Smith: Librarian Technician, Community Services, for the Pasadena Public Library in California.