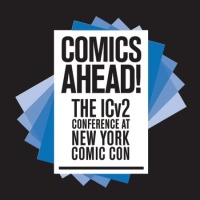 An ICv2 Release.
ICv2 has announced the first round of speakers for Comics Ahead! The ICv2 Conference at New York Comic Con, and they include the thought leaders of the industry, including key executives, creators, and experts, all brought together to discuss how changes roiling the industry will affect the future.
Skybound (
The Walking Dead
) Director of Business Development Shawn Kirkham, Bonfire Agency co-founder Steve Rotterdam, Rob Salkowitz, author of
Comic-Con and the Business of Pop Culture,
and Midtown Comics co-owner Gerry Gladston will explore what the #1 pop culture trend, the rise of geek culture, means for the future of entertainment, marketing, and the narratives that are weaving themselves through American life and beyond, moderated by ICv2's Milton Griepp and with an introductory presentation by Bonfire Agency co-founder Ed Catto.
IDW Publishing President and COO Greg Goldstein, author and consultant Barry Nalebuff, and Rich Johnson of Penguin's InkLit graphic novel line will discuss how a wider range of content, the impact of digital distribution, and the rapidly changing landscape at retail and in libraries can work together to reach a bigger, broader market for graphic novels, in a panel discussion moderated by Calvin Reid of
Publisher's Weekly
.
John Roberts, co-founder of comiXology, Dan Manser, Director of Marketing for Diamond Comic Distributors, and creators Simon Fraser (ACT-I-VATE) and successful Kickstarter publisher Jamal Igle will discuss how the path from comic creators to consumer is being disrupted by Webcomics and digital sales, Kickstarter, and closer relationships between creators and their fans and what that means for the future, in a panel discussion moderated by Heidi MacDonald of The Beat.
ICv2 CEO Milton Griepp will also present the ICv2 White Paper, assembling the statistics and trends underlying the graphic novel and comics markets.
For more information on the speakers at the ICv2 Conference,
click here
.
More speakers will be announced through the week, according to the organizers.
Comics Ahead! – The ICv2 Conference is a ticketed event for professionals including:
Comics and graphic novel publishers
Digital executives
Writers and artists
Retailers and wholesalers
Librarians and educators
Producers, agents, and managers
Licensees, licensors, and marketers
The ICv2 Conference will take place at the Jacob Javits Convention Center, from 1:00 to 5:00 p.m. on Wednesday afternoon, October 9th.
Registration information is available
here.
The event is open to press with an RSVP to
Mgriepp@icv2.com
.
For more details on the event,
click here.
For more information:
Milton Griepp, ICv2
MGriepp@ICv2.com
608-284-9400, x1
ICv2
ICv2 is the #1 industry source on the business of geek culture, including comics and graphic novels, manga and anime, movie/TV products, and hobby games, on its Website, www.ICv2.com, and in its magazine,
Internal Correspondence
. For the people on the front lines of the geek culture business, staying ahead of the trends isn't something that can be left to chance-it's a basic necessity for being successful. That's why ICv2 is the #1 source of news and information for the buyers, gatekeepers, and tastemakers on the front lines. ICv2 is where trend-watching is a science.
Conference Sponsor: Publishers Weekly
Publishers Weekly
is your number one insider's guide for all pre-publication comics and graphic novels. Register for PW's ComicsWorld e-newsletter for advance listing, reviews and news dedicated to comics and Graphic Novels. If it is happening at New York Comic Con, then we have already written about it on PublishersWeekly.com.
Conference Sponsor: New York Comic Con
New York Comic Con is the East Coast's biggest and most exciting popular culture convention. Our show floor plays host to the latest and greatest in comics, graphic novels, anime, manga, video games, toys, movies, and television. Our panels and autograph sessions give fans a chance to interact with their favorite creators. Our screening rooms feature sneak peeks at films and television shows months before they hit either big or small screens. And with dedicated professional hours, New York Comic Con is a market place, bringing together the major players in the entertainment industry. New York Comic Con is the second largest pop culture convention in America with over 105,000 attendees in 2011, and the only one that takes place in the comic book, publishing, media, and licensing capital of the world--Gotham City.