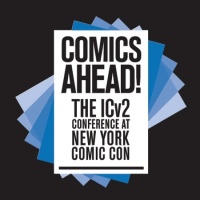 An ICv2 Release
. How can the business of comics and graphic novels keep moving ahead, continuing and expanding on the growth of the last two years? To find the answers, the thought leaders of the industry will gather at the ICv2 Conference on the eve of New York Comic Con, to discuss such issues as the disintermediating forces affecting the path from creator to consumer, how graphic novels can grow in a digital world, and how the rise of geek culture will affect the industry in the years to come.
Comics Ahead!--The ICv2 Conference, will be held in association with New York Comic Con on Wednesday afternoon, October 9th at the Jacob Javits Convention Center in New York City. Plan to join us!
For more information, see "
Comics Ahead!--The ICv2 Conference
."
To register,
click here
.
Here are the speakers at the Conference:

Leyla Aker
Leyla Aker is Vice President, Publishing at VIZ Media, LLC. She began her career by working as a bookseller and bookstore manager in New York City, and then transitioned to the publishing side, where she held editorial positions at Alfred A. Knopf and Random House, Inc. before moving to VIZ. Some days she still can't believe she actually gets paid to work on comic books.

Calista Brill
Calista Brill is a Senior Editor at First Second Books. A lifelong comics fan, she has edited graphic novels for First Second for nearly five years. Her areas of interest include nonfiction comics, webcomics, and anything truly silly. At First Second, she has worked on titles as diverse as
Feynman
, the
NYT
bestselling biography of physicist Richard Feynman, and
Nursery Rhyme Comics
, an anthology of comics-format illustrations of nursery rhymes. She was the editor of
Faith Erin Hicks Friends With Boys
and
Nothing Can Possibly Go Wrong
, both of which were serialized online by First Second before publication, and Tony Cliff's
New York Times
Best-Selling
Delilah Dirk and the Turkish Lieutenant
, which was originally published as a webcomic before First Second picked it up.

Ed Catto
As a Founding Partner of Bonfire Agency, Ed loves building brands and helping them connect with the "Geek Demographic" in authentic, creative and meaningful ways. With 20+ years total spanning the agency/consulting side, classic CPG grounding and an entrepreneurial stint, Ed possesses a unique, proven blend of marketing, strategy, and business leadership skills.

Simon Fraser
Simon Fraser is a Scots comic artist and writer. Best known for his work in the British sci-fi weekly
2000AD
where he has drawn
Judge Dredd
and co-created the Eagle Award winning
Nikolai Dante
. He runs the Webcomics collective ACTIVATEcomix.com and is a member of the DRAWBRIDGE studio. Simon's creator owned series
Lilly Mackenzie
is online at ACTIVATEcomix.com and is also published in the
Judge Dredd Megazine
.

Gerry Gladston
Gerry Gladston is one of the founding owners of Midtown Comics in NYC, and is the Chairman of Marketing for the company. A comic book fan since age 5, it was only natural for Gerry to combine his passion for pop culture and marketing to a new retail operation when Midtown Comics opened in 1997. Today, Midtown is the industry's leading retailer of comic books and related collectibles with an online store, three landmark NYC locations and a comic boutique at FAO Schwarz and Toys R Us.

Greg Goldstein
Greg Goldstein is President & COO of IDW Publishing. He manages the day-to-day aspects of IDW's publishing business, and plays a leading role in acquiring and launching new brands and book imprints for the company and managing partnerships with external licensors and I/P owners. Prior to joining IDW, Greg was VP of Entertainment and Gaming for Upper Deck, VP of Brand Development for Activision, and had a successful stint at Topps, where he helped launch Topps Comics as Director of Publishing.

Milton Griepp
Milton Griepp is the founder and President of ICv2, since 2001 the undisputed industry authority on the graphic novel and comic business. He is a 35-year veteran of the pop culture business, and has managed companies that have sold over $1 billion in retail value of pop culture products as CEO of Capital City Distribution and Next Planet Over.

Jamal Yaseem Igle
Starting at the tender age of 17, Jamal Yaseem Igle turned a six-month High School internship at into a successful 24 year comic book career. The creator of the Kickstarter funded graphic album series
Molly Danger
, Jamal's detailed artwork have graced books as varied as
G.I. Joe
,
Supergirl
, and
KISS
. A recipient of the 2011 Inkpot Award for outstanding achievement in comics, Jamal is also a prominent guest lecturer on the subject of comics and animation.

Rich Johnson
Rich Johnson's career has spanned nearly every aspect of bookselling and publishing. As VP of Book Trade Sales for DC Comics, Johnson established the category of graphic novels within the bookstore and library markets. He was co-founder and co-publishing director for Yen Press and currently oversees Penguin's new graphic novel imprint, InkLit, and also works with the Penguin Young Adult Group. He is the Founder of Brick Road Media, LLC a publishing consulting company. His clients have included: The Will Eisner Studios, Archaia Entertainment, Valiant Entertainment and Legendary Comics.

Shawn Kirkham
After graduating with a BA in film production and then building a career in the music industry focusing on music video production, Shawn transitioned within the entertainment industry to work in one of his lifelong passions, comics. In 2010 Shawn became the Director of Business Development at Skybound, where he currently works to bring awareness to Skybound's comic properties through branding, merchandising and marketing. Shawn is a fan of cupcakes, Lego and whiskey.

Trudy Knudsen
As Manager of eContent Acquisitions at Follett School Solutions Group, Trudy is responsible for the acquisition of digital content for distribution to PreK12 schools. Follett is the largest provider of educational materials and technology solutions to the PreK-12 arena. Follett helps educators realize their mission to drive superior learning outcomes by not only providing integrated content, technology, and service solutions, but also inspiring student learning through enhanced curriculum, and maximizing resources. Follett's solutions reach more than 35 million students, in 147 countries.
Heidi MacDonald
Heidi MacDonald is the editor-in-chief of The Beat, the go-to-source for nerd industry news. Covering comics, graphic novels, animation and related fields, The Beat is required morning reading for industry insiders and genre enthusiasts alike. MacDonald is a two-time Eisner Award nominee and winner of the 2011 Blog of the Year Shel Dorf Award. She is also the Graphic Novel Review editor for Publishers Weekly, and has worked as a consultant and editor for Disney, DC Comics, Fox, New York Comic Con, Trident Entertainment and many other companies.

Dan Manser
Dan Manser is the Director of Marketing for Diamond Comic Distributors and a 20-year veteran of the comics and video game industries. Dan joined Diamond in 1989 and helped shape its
Previews
catalog and other print and marketing communication efforts until 1997, when he left to join InterAct Accessories, the makers of peripherals and accessories for PlayStation, Nintendo, Sega and Microsoft console systems. In 2007, Dan rejoined Diamond to help expand its marketing efforts, including overseeing Free Comic Book Day, revitalizing PREVIEWSworld.com and other pop-culture consumer websites and expanding the company's social media efforts.

Dallas Middaugh
Dallas Middaugh is the director of publishing services for Random House Publisher Services, distributor to the book trade for Dark Horse Comics, DC Comics, Archie Comics, Kodansha Comics and Vertical. His chief responsibility is the oversight of Kodansha's line of manga, including the breakout hit of the year,
Attack on Titan
. He has also worked at VIZ Media and Prima Games, and he co-founded Seven Seas.

Barry Nalebuff
Barry Nalebuff is the Milton Steinbach Professor at the Yale School of Management. An expert on game theory, he has written extensively on its application to business strategy, and is coauthor of
Thinking Strategically
,
The Art of Strategy
,
Co-opetition, Why Not?
, and
Lifecycle Investing
, as well as
Mission in a Bottle
, his first graphic novel. Barry has extensive experience consulting with multinational firms. He serves on the board of Nationwide Insurance and advised the NBA in their negotiations with the Players Association. A graduate of MIT, a Rhodes Scholar, and Junior Fellow at the Harvard Society of Fellows, Barry earned his doctorate at Oxford University.

Calvin Reid
Calvin Reid is a senior news editor at
Publishers Weekly
with responsibility for comics and graphic novel coverage. He is also co-editor of
PW Comics World
, the magazine's e-mail comics newsletter.

John D. Roberts
John D. Roberts is the co-founder of comiXology and a pioneer in digital comics. Previously to co-founding comiXology, Roberts lead Marvel's first digital comics initiative "dotComics" in the early 2000s and created the Marvel trailers that were a precursor to today's motion comics. John has over 20 years of experience in the tech field working with clients like Pepsi, PricewaterhouseCoopers, Sunoco, DC Comics, Disney, Pokemon, National Geographic, Touchstone, Nickelodeon, and Lionsgate. John is currently working with creators in utilizing Guided View to innovate comic storytelling.

Steve Rotterdam
Steve is a highly accomplished, well-regarded brand strategist with 30 years of experience in creative leadership and expertise in concept development, strategic planning and program implementation. As DC Comics' SVP of Sales and Marketing, Steve was struck by the degree to which most national brands "get it wrong" when attempting to relate to and connect with incredibly passionate, highly influential entertainment and pop culture enthusiasts. This perspective served as the spark that ignited the formation of Bonfire Agency.

Rob Salkowitz
Rob Salkowitz is author of Comic-Con and the Business of Pop Culture (McGraw-Hill, 2012) and other works examining how digital media, shifting demographics and globalization are disrupting business. He is a founding partner in MediaPlant, LLC, a Seattle-based digital communications firm, and teaches at the University of Washington Graduate School of Communications. Follow Rob on Twitter @robsalk and find more info at
www.robsalkowitz.com
.
More speakers are being added regularly--check back here!