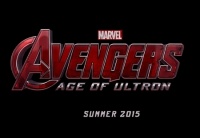 Ever since San Diego Comic-Con, grainy, shaky versions of the
Avengers: Age of Ultron
teaser trailer that Joss Whedon showed at the Hall H presentation have hit the web, with 99 percent of them pulled within a few hours and replaced by a message of "This video is no longer available due to a copyright claim by Disney." Over the last week, another flurry of videos went up, but most were pulled down almost immediately.
However, this more professional version of the 1:07 trailer has been up for almost a week, and garnered over a million views (though for some reason it does contain the audience reaction noise to the title reveal beginning at 0:50).
Viewers may want to turn their speakers up to hear the almost inaudible voice-over quotes from Iron Man, Thor, Captain America and the Hulk from the first
Avengers
movie while the video shows Iron Man's helmet being recast, hammer blow by hammer blow, into the visage of Ultron--but be warned, at about 0:45 the sound gets EXTREMELY LOUD.