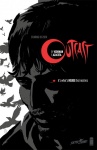 New York Comic Con News:
In a conference call with the comics press today Robert Kirkman revealed that the comic book series that Image has been teasing for a couple of days will be a new monthly horror book,
Outcast
, which will be written by Kirkman and drawn by artist Paul Azaceta. The new book, which will deal with demonic possession, will launch in early 2014, and though Kirkman maintains that he always conceived of the project as a comic book series, there has already been some preliminary interest in bringing
Outcast
to TV.
Kirkman pointed out the difference in scope in
Outcast
, which will focus on the problems of one protagonist, Kyle Barnes, who has suffered episodes of demonic possession throughout his life, and the
The Walking Dead
, but he also see similarities in the way in which he brings an extra dose of "realism" to these traditional horror subgenres, stating: "I've seen every exorcism movie. I feel like it's a genre that is very open to a realistic interpretation, which is something that I think
The Walking Dead
does well--taking the zombie tropes and dealing with them realistically. So that's what I hope to do with exorcism."
While Kirkman clearly enjoys the freedom of independent comics, which allows him to kill off characters with impunity and keep the audience on edge, he also noted that "It (
Outcast
) won't be as much of a blood bath as
TWD
turned out to be."
Kirkman also noted that he has been working on
Outcast
for two years, and that he eschewed other potential horror projects because they were too close in nature to
The Walking Dead
. With
Outcast
Kirkman thinks he will be able "to break new ground and do new things."