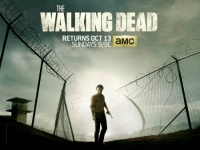 The Walking Dead
kicked off its fourth season by kicking all of its non-sports competition into the dustbin of history as the comic book-based zombie saga snagged 16.1 million during its 9pm initial broadcast, which was up a whopping 32% from last October's third season debut, which averaged 10.9 million during its initial broadcast . Ratings for
TWD's
scripted network competition such as
The Good Wife, The Mentalist, Once Upon a Time
, and
Revenge
all sunk to new lows, and
TWD's
rating of 8.3 in the key 18-49 demo is the best of any show so far this fall, and better than the
TWD's
NFL competition on Sunday.
The fourth season premiere of
The Walking Dead
will probably fare even better once time-shifting video recorders are taken into account. Last season, according to
The Hollywood Reporter
, time-shifted viewing numbers gave the show an average rating of 7.2 in coveted 18-49 demo.
The fact that
TWD
set this new viewing record in the face of competition from both the NFL and the Major League Baseball League Championship Series makes the feat all the more remarkable. The show's previous high was its season 3 finale (see "
'Dead,' 'Thrones' Set Records
"), which drew 12.42 million and a 6.4 rating in the 18-49 demo. For the sake of comparison take a look at the hugely-hyped final episode of AMC's
Breaking Bad
, which drew an average audience of 10.23 million and a 5.3 rating in the key demo, numbers that pale beside the ratings for
The Walking Dead's
season four premiere.