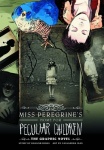 Miss Peregrine's Home for Peculiar Children: The Graphic Novel HC
Publisher: Yen Press
Release Date: October 2013
Price: $19.99
Creators: Story by Ransom Riggs, art by Cassandra Jean
Format: 240 pgs. , B&W, 6 x 8-½ inches, Hardcover
ISBN: 978-0-316-24528-9
Age Rating: Teen
ICv2 Rating: 3 Stars out of 5
This novel was an odd choice for a graphic adaptation, because much of the original story depends on the visually jarring nature of a set of photographs. The photos, which are very old trick photography, are only jarring in a "realistic" setting. Set against a structure of sequential art, they almost fit in too well, and are not as disturbing, reducing their impact.
On the other hand, this graphic adaptation captures a convoluted story and keeps it interesting. "Peculiar" children are ones with certain special talents or abilities that somehow fail to fit into the regular world. Think of them as pre-modern mutants, able to turn invisible, shift shape, use super-strength, levitate or do some other impossible thing, one talent per person.
Miss Peregrine has separated some of these children from the normal flow of time, in order to protect them from a truly horrific fate. What could possibly go wrong?
Because the story is the beginning of a series, many questions are not answered. Some will find this frustrating, but overall it's a good book for teens.
The photographs are worth viewing, just to see if you can figure out how the tricks were done in those long-ago days before Photoshop.
--
Nick Smith: Librarian Technician, Community Services, for the Pasadena Public Library in California.