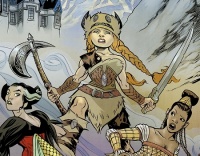 Oni Press will launch
Princess Ugg
, a new miniseries from
Courtney Crumrin
creator Ted Naifeh, in July, the company announced at New York Comic Con.
Princess Ugg
tells the story of an adorable barbarian princess who is a fearsome warrior, but not a prim and proper princess. Her parents decide she needs a proper education, and send her to a finishing school. "She doesn't necessarily take that very well," said John Schork, a representative for Oni. Warren Wucinich, who was the colorist for Naifeh on the
Courtney Crumrin
hardcover reissues (see "
Oni to Collect 'Courtney Crumrin'
"), will collaborate with Naifeh on the project.
Naifeh is probably best known for his creation of the Eisner Award-nominated
Courtney Crumrin
and
Polly and the Pirates
for Oni, but his work also includes
How Loathsome
with Tristan Crane, as well as illustration work on both
Gloomcookie
by Serena Valentino and
The Good Neighbors
trilogy by Holly Black. He has also done illustration work on cards for
Magic: The Gathering
.