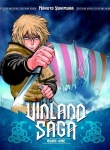 Vinland Saga Book One HC (Manga)
Publisher: Kodansha Comics
Release Date: 10/8/2013
Price: $19.99
Creator: Makoto Yukimura
Format: 470 pgs., B&W, Hardcover
ISBN: 9-781-6126-2420-4
Age Rating: Older Teen
ICv2 Rating: 5 Stars out of 5
Vinland Saga
is not a book that I would have normally picked up on my own and had it not been for a gentle nudge, I probably wouldn't have chosen to review this. Now that I have finished the first book however, I can't imagine my life being complete without having read this.
The story of
Vinland Saga
is about revenge, bloody warfare, viking history and growing up. On the surface, this is a story about a teenage boy who works for a group of mercenaries in the 11th century because he seeks revenge. Years earlier, this boy named Thorfinn watched as his father was betrayed by his former allies and killed by the ruthless mercenary Askeladd. Over the years Thorfinn has honed his own battle skills all for the chance to take the head of Askeladd and get the revenge he seeks.
There are so many good things to talk about within this book that it's really difficult to know where to begin but let's start with a warning; this is a very bloody book. Within the first few pages you'll see warriors gleefully decapitating their enemies, an arrow with an eyeball stuck to the end and much more. By the end of the first chapter, you'll see bodies laid out by the dozens and brutal, bloody combat. This is not a book that is meant for the squeamish or weak at heart. This is war as it was. Once you get past the first couple of chapters however, the story moves even further into the past to introduce Thors, Thorfinn's father, and what led to his death and if the first chapters hadn't sucked you into the story already these chapters most certainly will.
Now that we've gotten past the warning, let's lay it all out; this is a very good book. The artwork, the pacing, the characters… everything about this book is something that screams "read me" and you should absolutely listen to that voice. While the hard cover, bloody introduction and long chapter lengths might intimidate some readers anyone who tries to read this book is going to find it hard to put it down. My initial goal was to read this book, 100 pages at a time so that I could digest everything that I was reading but soon after I started that went out the window as I found myself going back to it again and again because I wanted to know what was coming next so badly. Gripping doesn't begin to describe
Vinland Saga
.
Winner of the Japan Media Arts Awards Grand Prize for Manga and Kodansha Manga Award, this book already has a pile of well earned praise that I am going to just heap more onto. Sometimes sweet and funny, sometimes violent and bloody there is a wealth of emotion and enjoyment to be found within these pages. If you enjoy excellent manga, do not let this one pass you by!
--
L.B. Bryant