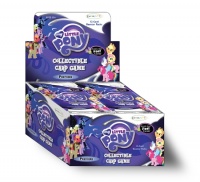 The official release date for the
My Little Pony CCG
is now December 13th, with a limited number of "Premiere" events and other launch events set for the weekend of December 7th. Organized play will take a "learn to play" approach in December, with tournaments launching in January, according to Enterplay.
Enterplay has also released a few more details of the product configuration beyond those previously made available (see "
'My Little Pony CCG' Pre-release Set
" and "
'MLP CCG' Package Art Released
"). The full set is 250 cards, with twelve cards exclusive to the deck products, including the six Mane Character Cards. The other five types of cards in the game (in addition to the Mane Character Cards) are Friends, Events, Resources, Troublemakers, and Problems.