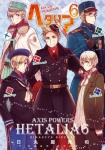 Right Stuf, Inc. has announced plans to publish the North American debut of the
Hetalia Axis Powers: Volume 6
manga in Spring 2014.
Right Stuf made a special agreement with the Japanese publisher Gentosha Comics and Tokyopop in 2012 to publish the
Hetalia: Axis Powers
manga in the U.S (see "
Right Stuf to Publish 'Hetalia: Axis Powers'
"). Right Stuf began publishing with
Volume 3
of the series, as well as reprinting the first two volumes, which were originally published in the U.S. by Tokyopop. (
Volumes 4
and
5
will be released on December 10, 2013.) Like previous editions,
Volume 6
's first print run will include a six-page color insert from the original Japanese print edition of the manga, with future print-on-demand editions of the volume including the pages in black-and-white
.
MSRP on the books will be $15.99. All volumes are currently available exclusively through rightstuf.com.
Hetalia Axis Powers
is a politically incorrect satire of World War II in which the nations are represented by cartoon stereotypes. Originally created by Hidekaz Himaruya as a Japanese web comic, it was later adapted into a manga (released by Tokyopop) and an anime series currently available in North America on DVD from Funimation Entertainment (Funimation recently released
Hetalia: The Complete Series-Seasons 3 & 4
(see "
DVD Round-Up: 'Under the Dome,' 'Mad Men,' 'Robotech,' & Double-Dipping 'Hobbits'
").