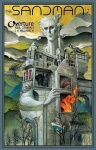 We talked to DC Vice President Marketing John Cunningham about the Sandman: Overture ad campaign, the impact of the delay of issue #2, and plans for the graphic novel.
Can you give us an overview of the Sandman: Overture marketing campaign?
There were three components to the ad campaign (where we created 15- and 30-second versions of the TV ad, as we are wont to do).
The first part was creating them and putting them up on the Diamond site for retailers to use as part of a co-op. When we announced the Vertigo "Defy" campaign earlier in 2013, we announced that Vertigo co-op would be 100% reimbursable throughout the end of this year and this was always intended to be the linchpin of that spending.
The second component was we ran the 30-second spot on the Jumbotron in Times Square. Our marketing people work with a really good vendor who provides great rates on that, and that ran throughout the month of November.
And the third and most visible part of the campaign was advertising on FX and Syfy. The ads were on flights that ran through the end of November, basically running throughout the entire month.
So how does the scale of the Sandman: Overture campaign compare to any other campaigns that you have done?
It's very similar to the periodic advertising slate that we did for
Before Watchmen
in 2012 (see "
DC TV Campaign for 'Before Watchmen'
"). Because we see these campaigns as sort of two-fold: We want to create the ad and have it run when we launch the #1 issue of the periodicals, but we always have it so that we have another big bite of the apple when we go to collections- we go back, we revise the ad somewhat and we go back and run the ads timed to when the trade collections come out.
Is TV the only medium that you are using, or is there an online component or any other advertising you're doing?
We did online site takeovers and skins on a number of comic book sites the week of launch, and that is something we will plan as we go forward and begin planning for issue #2 and onward, we'll have support advertising for all of those as they appear.
How does the delay in the second issue
(see "
'Sandman: Overture' Slips Two Months
")
change anything, if it does?
Frankly, the only delay we have is in when we time the ads to advertise Issue two. We are a periodical publisher so we are used to having to be able to pivot on scheduling issues, so it doesn't have any impact on what we're doing or how we're planning on doing it, rather than timing.
Is it unusual for the #1 of such a high profile book to be solicited before the second issue script is done?
No.
So most of the time it works out, but this time it didn't?
Yes, I think it works out almost all the time in a great way. I thought Neil addressed this issue rather succinctly and eloquently on his Tumblr, but if you go back and look at what he was doing over the course of the summer, it seems very understandable.
How will the scale of the graphic novel advertising compare to the scale of advertising for issue #1?
We usually determine that after we see what the success rate is on the periodical side. Then we'll have some time once we get into the market and start selling the collection to see what account response is. I would anticipate, given Neil Gaiman's enormous success as a
New York Time-
bestselling fiction writer and now kids' book writer that the scale will be equal if not even greater than what we did with the periodical launch.
Is the graphic novel launch going to happen in 2014?
It's a little early to say. It's in our plans, but again anytime we set a trade collection date in the early days of the series, it's always tentative at best.
You mentioned the campaign you did for Before Watchmen in 2012, you have the Sandman: Overture campaign in 2013. Are you basically doing one large, television style campaign per year, or is it just based on editorial releases?
It's really based on content and editorial releases--that's the determining fact. It just happened to work out that this is how it played itself through, but as you well know, there's no linkage in planning that would have made possible
Before Watchman
coming out one year and
Sandman
the next. It's just where we think we have the muscle, where we think that level of exposure will make a difference in getting it out to the audience for the book as well as that belief that if we have a two-fold campaign we would have a strong trade collection component on the back end.
Is there anything in 2014, other than the trade release of Sandman: Overture that you're looking at for this type of support?
Perhaps. We may be a little early to discuss that.
The most unique and exciting part of lining up the
Sandman: Overture
campaign was in being able to work in co-op ads and exposure on the digital side as well as the print side, because we've got a full slate of digital partners lined up and some of those partners have great experience in selling Neil's other works. We've had the biggest impact to date doing print and digital marketing conjoined in that way, bringing both of their strengths to the fore, and it was very exciting to see.
How is the advertising working, is it affecting the sales of any other Sandman products?
As a matter of fact, we're really happy with the reorder activity we're seeing on
Overture #1
coming from the direct market retailers, but we're also seeing a really dramatic impact in both the direct market and book trade market, and the digital market as well, with our sales on
Sandman
in collection form. Again, when we approach a project like this, we know a new iteration of the series will have an effect on other products for us. It is also the reason that within this window we put out the
Sandman Silver Edition
limited edition, signed, duel omnibus collection that's available online as well.
Are you going to move to California (see "DC Comics Leaving New York")?
Decisions are not due yet, so that remains to be seen; I'll just say it's really cold in New York today.