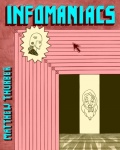 PictureBox, the Brooklyn-based art and comics publishing company, will no longer release new titles.
In a statement on the PictureBox website blog, publisher Dan Nadel expressed his thanks to all the artists, stores, distributors and readers for supporting PictureBox since 2004. "This was not an easy decision, but the company is no longer feasible for me as a thoroughgoing venture."
On the bright side he added, "PictureBox books will remain available to stores and individuals through my distributors and this web site."
PictureBox's final title will be Matthew Thurber's
Infomaniacs
(see "
PictureBox's Eclectic 2013 List
"). PictureBox has published around 10 books (graphic novels, manga, prose, design, and art) a year, over 70 in all.