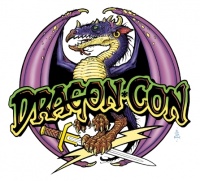 Two court cases involving Dragon Con co-founder Ed Kramer, one criminal and one civil, were settled in the last week, leading to an incarceration for Kramer and his complete separation from the show.
Kramer, who co-founded Atlanta's Dragon Con in 1987, submitted an Alford plea and was convicted of three counts of child molestation in Gwinnett County Superior Court on Monday, and was sentenced to five years for each count, to be served concurrently, according to the
Gwinnett Daily Post
. Because he'd already spent 26 months in custody, Kramer will now serve 34 additional months, under house arrest due to his medical condition. After his detention, he'll be on probation.
The settlement provided for the dropping of three additional charges and imposes conditions on Kramer, including being forbidden to interact with persons under 16. He will also be a sex offender for life.
Kramer's involvement in Dragon Con, the longest-running show in the southeastern U.S., and one of the largest, has spawned controversy in recent years, leading to a threatened creator boycott earlier this year (see "
Dragon*Con Creator Boycott
"). Kramer was no longer active in the show, but was still receiving six figure annual dividends from it.
To separate themselves from Kramer, the other owners of Dragon Con, including Atlanta-area retailer Pat Henry, formed a new company that acquired the assets of the show. Litigation between Kramer and the other owners ensued, which was settled last week, according to
Atlanta Magazine
. Under the settlement, Kramer will sell his shares and have no further ownership in the show. The cost of the settlement was allocated from convention funds acquired before the 2013 show on Labor Day weekend, meaning no 2013 moneys went to Kramer.
So ends this sordid chapter in the show's history, opening the way for better days ahead.