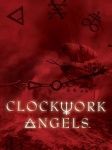 BOOM! Studios will launch a new six-issue miniseries based on Canadian prog-rock trio Rush's latest album,
Clockwork Angels
, in March, reported via
USA Today
.
The 2012 album, based on a concept by lyricist/drummer Neil Peart and novelist Kevin J. Anderson, it tells the coming-of-age story of a boy in a turn-of-the-century dystopian steampunk world. Anderson released a novelization of the album already, and will also pen the comic-book adaptation.
BOOM! Studios head Ross Richie is fond of musician-based projects, having released Say Anything singer Max Bemis's
Polarity,
and Coheed/Cambria frontman Claudio Sanchez's
Kill Audio
. "It's like writing the novel to Pink Floyd's
The Wall
or
Sgt. Pepper's Lonely Hearts Club Band,
" Richie told the paper. "It's obvious, but I guess if you don't listen to prog-rock music, you don't understand that there are these big epic stories in all of the songs."