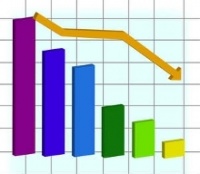 Marvel and DC Comics lost over two points of combined market share in comic shops in 2013, dropping from a combined share of 66.00% in 2012 (see "
'Walking Dead' Tops 2012 Charts
") to 63.83% in 2013. That decline was coupled with increases from the next seven publishers, with IDW Publishing gaining the most, nearly a point of share to 8% of the direct market in 2013.
The longer term trend shows greater declines for the Big Two, although they were not evenly distributed. Five years ago in 2008, Marvel had a 40.81% share in comic shops (7.31% more than its 2013 share); DC had a 29.94% share (0.39% less than its 2013 share).
The combined Big Two share of the business in comic stores was 70.75% in 2008, or nearly 7% (6.92%, to be exact) more than the combined share in 2013. That loss all came from declines in Marvel's share.
Both Image and IDW more than doubled their direct market share between 2008 and 2013. Image Comics went from 3.73% of the business in comic stores in 2008 to 8% in 2013; IDW went from 3.08% share in 2008 to 6.47% in 2013.
A couple of things to remember as you look at these numbers. One is that the size of the pie increased from 2012 to 2013, so even with declining share publishers may be experiencing increased sales. And second, these percentages do not include the book market, which is around half of the North American comics and graphic novel business.
Comic Publisher Market Share

| | | | |
| --- | --- | --- | --- |
| Publisher | 2013 Share | 2012 Share | Change |
| Marvel | 33.50% | 34.06% | -0.56% |
| DC | 30.33% | 31.94% | -1.61% |
| Image | 8.00% | 7.31% | +0.69% |
| IDW | 6.47% | 5.57% | +0.90% |
| Dark Horse | 5.17% | 4.81% | +0.36% |
| Dynamite | 2.72% | 3.11% | -0.39% |
| BOOM! | 1.99% | 1.53% | +0.46% |
| Eaglemoss | 1.25% | 1.15% | +0.10% |
| Valiant | 0.98% | 0.53% | +0.45% |
| Avatar | 0.89% | 0.89% | +0.00% |
| Big Two Total | 63.83% | 66.00% | -2.17% |