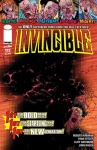 Image made some additional announcements at the Image Expo on Thursday, that were not covered in this first batch of 19 (see "
Image Announces Major 2014 Projects
"), including news on Robert Kirkman and Matt Fraction books.
Robert Kirkman plans a new beginning for
Invincible
, taking things down a dark road, with
Invincible #111
. The tweet of the announcement referred to it as "like three number 1's in one." It will also be Ryan Ottley's 100th issue with the book.
Nick Dragotta will bring his educational comic series
Howtoons,
which shows kids of all ages "how to" build things, to Image.
Howtoons [re]ignition
will be a revisiting of old
Howtoons
, with the help of Fred Van Lente, Tom Fowler, and Jordie Bellaire. The tweet described the series as "what happens when a comic artist, a toy designer, and a scientist create a comic."
Eisner Award winner Ted McKeever (
Eddy Current
), will launch
Superannuated Man
in June under Image's Shadowline imprint.
Matt Fraction also gave an update on
ODY-C
, announced last year (see "
Image Announces Major Projects at Expo
") promising that it is finally due out later this year.