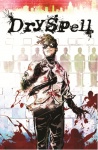 Action Lab Entertainment, publisher of
Princeless, Vamplets
, and
Molly Danger
, has announced several new series planned for release in 2014, including new series by James Patrick, Ray Anthony Height, and Mia Goodwin.
The four issue series
Dry Spell
, by Ken Krekeler, will release in Spring. Tom Ferris lives in a world of super heroes, and long ago, he had a chance to be one of them. This is a reissue of the independent graphic novel, with new material added.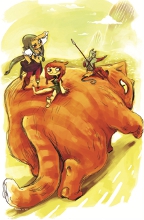 Writer Jeremy Holt (
Art Monster, Pathfinder Goblins
) and artist Alex Diotto (
Hawken
) will release a four issue series,
Southern Dog,
in the summer. The coming-of-age story with a rural-noir twist follows Jasper Dixon, who has to adjust to life as a werewolf after being bit by rabid wolf. Riley Rossmo (
Cowboy Ninja Viking, Daken: Dark Wolverine
) will provide cover art.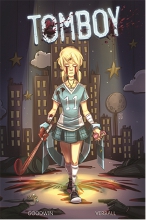 Eisner nominee Mia Goodwin (
Princeless
) will co-write and draw
Tomboy
, with writer Jon Verrall.
Tomboy
follows 15-year-old Addison Brody, who after killing two gang members who murdered her friend, is urged by her grandfather (a former vigilante) to adopt his old ways. The series will be presented as three four-issue mini-series beginning in Winter 2014.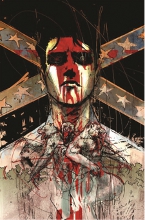 Mishka and the Sea Devil
will be written and drawn by Romanian illustrator and comic artist Xenia Pamfil, and released as an oversized hardcover in Summer 2014. Presented in 11 different art styles (one for each day the protagonist is trapped on a mysterious island), fisherman Mishka must unlock the secrets of the monster that trapped her on the island.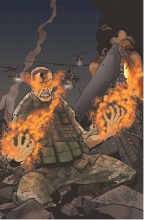 F1RST Hero,
written by Anthony Ruttgaizer, with art by Phillip Selvy and covers by Lee Moder (
Wonder Woman, Shinku
), tells the story of a world where everyone who has ever developed superpowers goes insane and thus are feared by the public. The four issue series will release in Fall 2014.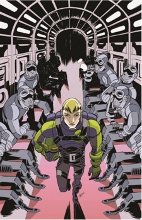 James Patrick (
Batman: Jokers Asylum, Green Arrow, Star Trek: Alien Spotlight
) and artist Carlos Trigo (
Judge Dredd Megazine, 2000AD
) will team up for
Jetpack B@st@rds
, a four issue series in Winter 2014. After alien attack, Earth is forced to resort to guerrilla tactics to fight back, and the Jetpack Brigades are born to combat the enemy by sending pilots straight into enemy ships.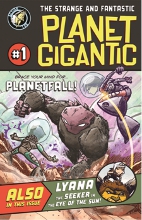 Midnight Tiger
will be a four issue series written by DeWayne Feenstra (
The Adventures of Aero-Girl
) based on plots by, and with art by, Ray Anthony Height (
The Amazing Spider-man, Spider-Girl
). Debuting from this year's ALE Free Comic Book Day Issue,
Midnight Tiger
will follow teenager Gavin Shaw who wakes up in a hospital after attempting to save the life of a gravely injured hero--with super powers.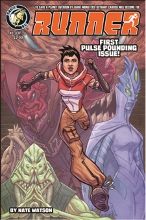 Runner,
written and drawn by Lucasfilm Animation artist Nate Watson, with be a three issue series in Summer 2014. Billed as "Parkour meets kaiju," the story follows a teenage recruit who is part of team of "Hyper Brawlers" who defend the world from otherworldly invaders and their army of giant monsters.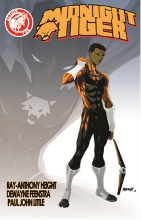 Also in Winter 2014, the four issue series
Planet Gigantic
written by Eric Grisom, with art by David Halvorson, will debut. In the future, the Wunderkind Corporation genetically engineers human clones, children, to travel through space to identify resources for harvest.