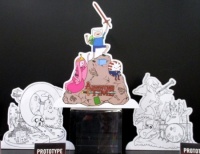 At Toy Fair, Cryptozoic Entertainment shared details on their newest
Adventure Time
licensed products, including a series of high-end character statues, and their first set of
Adventure Time Playpaks
.
The series of three collectible, high-end statues with dioramas will each feature three 12-inch figure sculpts of popular characters, including one removable/replaceable figure. The tentative names are
Finn, Princess Bubblegum and Peppermint Butler
;
Jake, Lumpy Space Princess and BMO
; and
Marceline, Ice King and Gunter
.
Each statue will have one interchangeable figure for customization, which also comes in the box. Scott Gaeta, Cryptozoic Chief Operating Officer explained, "For example, you can take Peppermint Butler off the first statue and replace it with Demonic Peppermint Butler." The other two replaceable figures are BMO and Gunter.
As premium collectibles, prices are still to be determined, but "probably will be in the mid-$100 range," Gaeta told us. Sold separately, the statues can be displayed alone or put together to form a single diorama of an
Adventure Time
scene.
Cryptozoic will also soon release the
Adventure Time Playpaks – Series 1
. The five-card packs will include 2 cards from the base set, 1 sticker card, 1glitter card and 1 standee, tattoo or scented card. The full set contains 18 Base cards, 9 Sticker cards, 9 Glitter Princess cards, 3 Standee cards, 3 Temporary tattoos, and 3 Scented cards. Each box contains 24 packs and MSRP is $2.99 a pack.
Cryptozoic just released the
Adventure Time: Card Wars
decks this week (see "
'Adventure Time Card Wars'
").