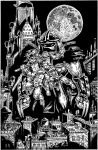 IDW has announced that co-creators Kevin Eastman and Peter Laird will produce a special 30th Anniversary issue for
Teenage Mutant Ninja Turtles
this May.
The issue will mark the first time in over 20 years that Eastman and Laird, who co-created the Turtles in 1984, have worked together on the TMNT property. Eastman has been working on IDW's
Teenage Mutant Ninja Turtles
comic since 2011 (see "
Kevin Eastman to Write New 'Turtles' Comic
"), but this is the first time co-creator Laird has returned.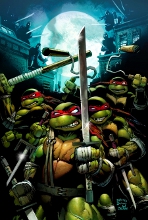 The 48-page, full-color
30th Anniversary Special
will include short stories from different creators who have worked on the property. Each story will be inspired by different eras of the TMNT history, and will all feature a unique look, feel and voice. Dean Clarrain, Chris Allan, Gary Carlson, Frank Fosco, Jim Lawson, Tom Waltz and Dan Duncan will all contribute.
The current animated incarnation of the Heroes in a Half-Shell airs on Nickelodeon (see "
New 'Teenage Mutant Ninja Turtle' Toon Debut Set
") and the new CGI/live-action hybrid movie from Paramount Pictures and Nickelodeon Films' debuts in August (see "
Live-Action 'Teenage Mutant Ninja Turtles' Delayed Again
"). IDW will also be releasing
Teenage Mutant Ninja Turtles New Animated Adventures Micro Comics
in April (see "
'TMNT Micro Comic Fun Packs'
")
.