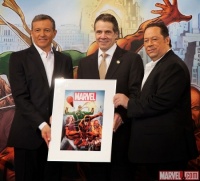 Marvel Television and ABC Television will principally film its TV series featuring Marvel's "flawed heroes of Hell's Kitchen" for Netflix in New York State, Disney, Marvel, Netflix, and the State of New York announced Wednesday. The deal is the largest film or television production project commitment in New York state history, according to the announcement.
The production will begin this summer on the nearly sixty episodes being produced for Netflix: four series featuring Daredevil
,
Jessica Jones
,
Iron Fist, and Luke Cage, plus a first season wrap-up
Defenders
miniseries (see "
Daredevil, Jessica Jones, Iron Fist, and Luke Cage Netflix Series
").
"These shows bring New York's superheroes home where they belong--along with hundreds of jobs and millions of dollars in new business," Governor Andrew M. Cuomo said. The production will generate at least three thousand jobs in the state, including up to 400 full time jobs, the announcement said.
The new series will start to roll out in 2015.