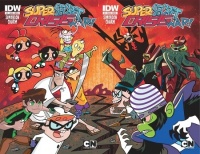 For June, IDW Publishing has announced a special Cartoon Network crossover miniseries,
Super Secret Crisis War
, which will feature characters from
The Powerpuff Girls, Dexter's Laboratory, Samurai Jack, Ben 10
, and for some reason,
Ed, Edd, and Eddy
. Other CN series will also be featured as a series of tie-in one-shots.
The six-issue series will be written by Louise Simonson (
Power Pack, X-Factor, Superman: The Man of Steel
), with art and covers by Derek Charm (
The Powerpuff Girls
). Subscription cover variants be done by Troy Little (
The Powerpuff Girls
), and those covers can be combined to form a massive connecting image. Additional variants will be done by Katie Cook (
My Little Pony
).
In addition to the main six-issue series, in July, IDW will release a series of one-shot tie-in titles for
Foster's Home for Imaginary Friends
,
Grim Adventures of Billy and Mandy
,
Johnny Bravo
,
Codename: Kids Next Door
, and
Cow and Chicken
. The issues will be written by Ivan Cohen, Kate Leth, Erik Burnham, Scott Peterson, and Jim Zub, respectively. Each one-shot will tie in to the
Super Secret Crisis War
series.