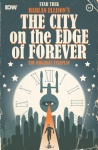 IDW Publishing has announced it will adapt Harlan Ellison's teleplay for the original
Star Trek
series episode "City on the Edge of Forever" as a comic miniseries premiering in June.
The famed sci-fi writer's original teleplay won both a Hugo and the Writers Guild of America's Award for Most Outstanding Teleplay.
TV Guide
also named the episode on its 100 Most Memorable Moments in TV History. The original teleplay was modified several times before the episode was filmed, so this will be an opportunity for fans to see the story as Ellison intended it.
The five-part
Star Trek: Harlan Ellison's City on the Edge of Forever: The Original Teleplay
miniseries, produced under the guidance of Harlan Ellison himself, will be written by Scott Tipton and David Tipton, with interior art by J.K. Woodward. Cover art will be done by Juan Ortiz, who recently released an art collection of interpretations of every episode of
Star Trek: The Original Series.
Variant covers will be provided by movie poster artist/
Star Trek: Khan
cover artist Paul Shipper.