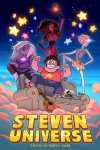 BOOM! Studios has signed an expanded licensing deal with Cartoon Network that gives the publisher the first option on licenses for comic adaptations of new CN comedies. This type of deal is a first for Cartoon Network in publishing, according to the announcement. The new deal will allow BOOM! to begin comic tie-ins closer to the debut of new shows.
The first title under the new deal will be an ongoing monthly series based on the Rebecca Sugar show Steven Universe, which will launch in August. Cartoon Network Enterprises VP-Consumer Products Pete Yoder made it sound like this will not be the only new Cartoon Network title from BOOM! this year. "As we grow our roster of original comedies, it's a great opportunity to expand our relationship with BOOM! and allow us to build on this strong success with additional brands debuting later this year," he said.
BOOM! has had considerable success with its first two CN properties.
Adventure Time
won an Eisner and several Harveys and has garnered solid sales in its multiple incarnations. And
Regular Show
, which launched last April, was the top-selling title in BOOM! history, the company said.