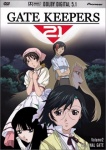 Starting June 24, Tech TV will present the first of three new series for its Anime Unleashed block, which airs Monday through Friday from 1am to 1:30 am (ET, PT), with rebroadcasts on Friday from 11 pm to 1 am (ET/PT) and 1:30 am to 3 am (ET/PT). The first new series to air is The Soultaker, a 13-episode series from 2001 in which a college boy searches for his long lost sister, while being harassed by agents of Kirihara Heavy Industries, the giant corporation that controls much of this not so distant future world.
The second new series to air on Anime Unleashed is Gate Keepers 21, the six-part sequel to the anime series Gate Keepers, which was broadcast in Japan in 2000. Teenage psychics provide the Earth's only defense against invaders who feed on human greed, turning their hosts into rampaging monsters in this series, which contains elements reflecting the Cold War paranoia of Invasion of the Bodysnatchers, and the psychological angst of Evangelion. Gate Keepers 21 debuts on Tech TV on July 16.
The third anime series announced for Tech TV is the enigmatic Boogiepop Phantom, a complex and fascinating puzzle that blends modern horror and science fiction. Boogiepop Phantom debuts Monday, July 28. For anime retailers TV exposure should help sales of DVDs, which are available for all three series. The Soultaker and Gate Keepers 21 are Pioneer titles, while Boogiepop Phantom is available from the Right Stuf. Numerous figures based on these three series have been produced in Japan, and could become more available in the U.S. as these series gain a higher profile.