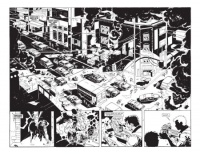 Captain America: The Winter Soldier
directors Joe and Anthony Russo are teaming with Ande Parks to write
Ciudad
,
a thriller about a mercenary attempting to complete a mission for a drug lord in a corrupt city filled with crooked cops and warring gangs.
Ciudad
was just one part of major list announced today that includes six original graphic novels as well as new ongoing comic series
Stumptown
by Greg Rucka,
Hellbreak
by Cullen Bunn,
The Life After
by Joshua Hale Fiakov, plus a
Sixth Gun
prequel and
Brides of Helheim
, the continuation of Cullen Bunn's Viking horror fantasy series.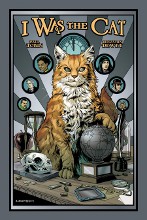 Paul Tobin and Benjamin Dewey's
I Was the Cat
will be the first of the newly announced original graphic novels to appear when it is released in August. Anyone who has ever owned a cat can testify to the species' authoritarian tendencies, and so this saga of a cute feline with Napoleonic ambitions is only a little bit of a stretch.
Also due in August is
The People Inside
, an original graphic novel from Ray Fawkes, the creator of the Eisner-nominated
One Soul
. The People Inside is a highly original narrative that follows sixteen different characters through all of life's stages, with each stage of life marked with a change in storytelling format.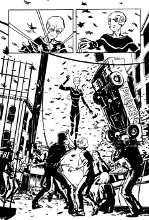 In
Meteor Men
, writer Jeff Parker (Hulk, Aquaman) and artist Sandy Jarrell (
Batman 66
) create a coming-of-age saga set against the background of a celestial event that turns into an alien invasion.
Other new Oni books with youthful protagonists are
Junior Braves of the Apocalypse
, the first book in a sort of "
Goonies
Meets
The Walking Dead
" series of young adult graphic novels by writers Michael Tanner & Greg Smith and artist Zach Lehner, and
Orphan Blade
, a manga-tinged OGN by writer Nick Almond and artist Jake Myler.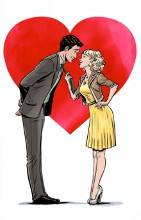 Oni also has had the temerity to schedule a real life modern romance graphic novel--
Ares & Aphrodite
by Jamie S. Rich and Megan Levens, which is due out in 2015.
Among the new ongoing comic book series announced today the three most interesting are Rucka's
Stumptown
, which features art by Justin Greenwood and chronicles the adventures of female Portland private eye Dex Parios, Fiakov's anomie-filled sci-fi saga
The Life Within
with art by Gabo, and Bunn's gothic
Hellbreak
, which features art by Brian Churilla and a wild supernatural fantasy narrative about an elite group of mercenaries recruited by the Kerberos Corporation to break souls out of Hell and return them to their mortal bodies while sending the demons currently possessing those bodies back to Hades.