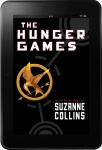 Trade book publishers reported sales down 1% in 2013 vs. 2012, with ebook sales also down around 1%, according to the first industry-wide survey results for the year, from the Association of American Publishers' StatShot program, as reported by
Publishers Weekly
.
Of course, 2013 had some tough comparisons, with
Fifty Shades of Grey
and
Hunger Games
driving sales in 2012 and no hits that big in 2013. The
Hunger Games
comparison was particularly difficult, as the children and young adults category (
Hunger Games
is classified as a YA title) declined in both print and ebook formats. In fact, the decline in the children and young adults market was the driver of the total declines in both print and ebook; sales of adult books in both formats increased.
The decline in print sales isn't that surprising; perhaps what is surprising about print is that books in print held on to most of their gains from 2012, a very good year in the book business. But a decline in ebook sales, especially at this stage of adoption for the new format (ebooks were 21% of trade sales, down from 23% in 2012), was once seen as unimaginable.
The decline of ebooks sales is isn't a new trend, it's been developing through the year (see "
Ebooks Falling
"). But the fact that the trend held up for the full year numbers is significant, demonstrating that it's not a short-term blip.
Ebook growth may return in 2014, but the numbers from 2013 indicate that for books, at least, the legacy format is resilient when competing with digital. It appears that print and digital are likely to co-exist for many years to come.