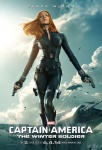 Captain America: The Winter Soldier
was the big winner at the weekend box office as it kicked off the summer movie season a month early with an estimated $96.2 million, a new box office record for April. Overseas the film, which opened in a number of markets last weekend, has already earned $207.1 million, which is more that the first
Captain America
movie made during its entire run outside of North America. In fact,
The Winter Soldier
, which powered the total of the top 12 box office films to a massive 26.5% gain over the same weekend last year when the
Evil Dead
remake bowed to $25.7 million, should end up surpassing the entire total of
Captain America: The First Avenger
($370.6 million) by this time next week.
The Winter Soldier
debuted with a bang on Friday earning $37 million, which was 14% more than
Thor: The Dark World
, and 44%
more than Captain America: The First Avenger
. The Winter Soldier widened its lead through the rest of the weekend with its record setting $96.2 million April debut that was up 47% from
The First Avenger's
$65 million bow, though it of course trails the first weekend totals of all three
Iron Man
films ($102 million, $128 million, and $175 million respectively) as well as
The Avengers
$207 million debut weekend record. Still
The Winter Soldier's
$96.2 million bow blew away the previous April mark of $86.1 set by
Fast Five
in 2011--and it should be noted that
Fast Five
opened on April 29, which is a long way from the first week of the month.
The
Cap
sequel earned about 40% of its domestic total from 3-D screens, and the premium ticket prices (for 3-D and IMAX, which accounted for 10% of the total dollars from just 318 locations) made a significant contribution to the movie's first weekend earnings. At this point
The Winter Soldier
appears to be the one film released so far in 2014 that has a chance of catching and surpassing
The LEGO Movie's
year-to-date leading total of $250.6 million. A relatively weak slate of April action movie releases also bodes well for
The Winter Soldier's
chances.
Opening weekend audiences for
The Winter Soldier
skewed male (65%), but were pretty well mixed across the age demographics with 43% under 25. Audiences gave the film a solid "A" CinemaScore, which bodes well for the next few weeks as do the film's solid notices--
The Winter Soldier
has a current Tomatometer reading of 89% positive, which is exceptionally high for a superhero film. Don't be surprised if
The Winter Soldier
goes on to clearly eclipse
Thor: The Dark World
and earn second place (behind
IM3
) in the post-
Avengers
Phase II.
The Winter Soldier's
Cold War thriller elements have the potential to broaden the already extensive audience for Marvel-based movies.
Weekend Box Office (Studio Estimates): April 4-6, 2014

Film

Weekend Gross

Screens

Avg./

Screen

Total Gross

Wk#

1

Captain America: The Winter Soldier

$96,200,000

3,938

$24,429

$96,200,000

1

2

Noah

$17,000,000

3,571

$4,761

$72,341,000

2

3

Divergent

$13,000,000

3,631

$3,580

$114,029,000

3

4

God's Not Dead

$7,726,000

1,758

$4,395

$32,520,000

3

5

The Grand Budapest Hotel

$6,300,000

1,263

$4,988

$33,380,000

5

6

Muppets Most Wanted

$6,285,000

3,052

$2,059

$42,142,000

3

7

Mr. Peabody & Sherman

$5,300,000

2,931

$1,808

$102,202,000

5

8

Sabotage

$1,908,000

2,486

$767

$8,767,000

2

9

Need for Speed

$1,836,000

1,779

$1,032

$40,839,000

4

10

Non-Stop

$1,827,000

1,724

$1,060

$88,138,000

6
As might be expected, Darren Aronofsky's
Noah
took it on the chin as the
Cap
sequel dominated the cineplexes, dropping 61.1% in its second weekend in theaters as it earned an estimated $17 million, bringing its domestic earnings to $72.3 million. The Biblical epic, which was produced for $125 million, has now earned $106.2 million overseas for a worldwide total of $178.5 million.
In its third weekend, the YA adventure
Divergent
dropped 49.3% as it earned $13 million and brought its domestic total to $114 million.
Divergent
has just started to open overseas, and has yet to become a
Hunger Games
-scale success, though it is definitely not a failure like so many recent YA novel adaptations that have failed to stir
Twilight
or
Hunger Games
-like interest at the box office.
The Christian-themed
God Is Not Dead
continued its modestly successful run as it increased its number of theaters by a third and dropped just 12.2%, earning $7.7 million and bringing its total to $32.5 million. The film's $4,395 per-theater average was fourth best in the top ten, trailing just
The Winter Soldier
($24.449),
The Grand Budapest Hotel
($4,998), and
Noah
($4,761).
Wes Anderson's
The Grand Budapest Hotel
continues to chug along as it earned $6.3 million from 1,253 locations, bringing its domestic total to $33.4 million.
While Disney scored big with the debut of
Captain America: The Winter Soldier
, the Mouse House's attempt to keep its
Muppets
franchise viable is in danger. In its third weekend of release
Muppets Most Wanted
earned $6.2 million bringing its domestic total to $42.1 million. The $50 million production will need to do much better overseas to make it to the black, and so far the results are not encouraging, but time will tell.
Dreamworks' animated feature
Mr. Peabody & Sherman
brought its total past the $100 million mark, the fifth 2014 movie to pass that milestone so far this year.
There is no hope for the latest Arnold Schwarzenegger bomb,
Sabotage,
which dropped 63.8% from its pitiful debut as it earned just $1.9 million in its second weekend of wide release (2,486 theaters). Can the "Terminator" survive in the age of superheroes? Certainly
Sabotage's
per-theater average of just $767 doesn't provide much hope.
The highest per-venue average for the weekend went to Jonathan Glazer's
Under the Skin
, a horror science fiction film, which has been described as an "art house version of
Species
," earned $35,000 each from four different locations.
Under the Skin
stars Scarlett Johannson (Black Widow in
The Winter Soldier
) and has received lots of press in upscale newspapers and magazines.
Be sure to check back here next week to see if the animated sequel
Rio 2
, the "R" rated horror/suspense drama
Oculus
, or the NFL-themed
Draft Day
can dislodge
The Winter Soldier
from its currently lofty perch atop the box office.