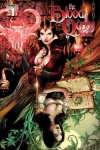 Dynamite Entertainment will launch
The Blood Queen
, a new dark fantasy series with horror overtones inspired by the notorious Countess Elizabeth Bathory, in June.
Written by Troy Brownfield (
Grimm Fairy Tales, Buck Rogers Annual #1
), with art by Fritz Casas (
Queen Sonja
), the new series is based on the stories surrounding the 16th Century Hungarian Countess Elizabeth Bathory, who has been labeled the most prolific female serial killer in history for her sadistic serial murders of anywhere between 80 to 650 girls and young women. This earned her the nickname "The Blood Countess," and stories circulated of her bathing in the blood of young girls to retain her youth, though these have never been verified. Some literary critics argue she was also the source material for
Carmilla,
the Gothic novella by Joseph Sheridan Le Fanu that predates Bram Stoker's
Dracula
by 25 years. Bathory was also the inspiration for the Hammer Film Productions 1971 movie
Countess Dracula
.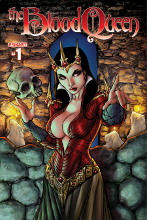 The Blood Queen
is set in a medieval fantasy setting. "We've got the horror element, the fantasy element, and we have medieval drama and all that entails. That means knights, witches, monsters, warring kingdoms, star-crossed lovers, betrayal, and loads of secrets," Brownfield said in an interview with
Comic Shop News
. "Overall, it's a more gritty fairy tale kingdom, but there will be a little bit of tension between magic and science. That's something we actually reference in the first issue. The trick is to kind of walk the line between the actual inspirations and the more fantastic background that lets us do a variety of stories."
Here a young Elizabeth has been raised in an environment of healing and nature magic. She receives a royal summons to the court of the King because his infant daughter is near death. The illness is not what it seems, and Elizabeth is thrown into a web of court intrigue.
The book will feature several covers, including two main covers by Jay Anacleto and Ale Garza. Incentive covers include black and white line art versions of the two main covers, a blank authentix cover, and a retailer shared exclusive variant cover.