ICv2 recently caught up with Dynamite Entertainment CEO Nick Barrucci to talk about the market and Dynamite's place in it. In Part 1, we talk about the market, variants, and what's going on with key Dynamite lines such as Heroes, Robotech, Bob's Burgers, and more. In Part 2, we talk about Dynamite's art book line, and plans for 2014.
How do you see the state of the comics and graphic novel market?
I see it doing well. It's a good year so far. Last year ended well, and from every retailer I've spoken with, everyone seems to be doing better. When the retailers are happy that means the industry is doing better.
With your background with the TV shows you have a good feel for the collectibles side of the market. What are your observations about the industry and its use of variants?
I think there still are more variants than are probably needed. But especially over the past year, the variants being created have gotten better for retailers: more original art, more stylized, more themed. They actually have a story behind them now, and it's more engaging for the retailers and the fans.
For years I've thought there are too many variants, and obviously we're a part of it. I also feel that variants have become better programs as opposed to just being additional art created, or variations, and they've become more fun.
What are your thoughts on the use or overuse of the three main type of variants (one where a retailer can order as many of a specific variant item as they want vs. an incentive program where they have to buy a certain quantity of product in order to be eligible to receive or buy the variant)?
The best variant is when you order what you want. It's the best variant for the retailers; it's the best variant for the fans; it's the easiest in that everybody has a choice on how many to order. I think that's a nice choice for everyone, and in a perfect world that would be the only variant to be offered to retailers and consumers. But we're all fighting for retailers' dollars and consumers' dollars so we're always trying to create new thresholds to get retailers and consumers to get more excited and to buy more. At the end of the day every publisher is fighting for rack space. We're selling to the retailer so the retailer can sell to the consumer and that's the reason why we do all versions of incentives.
Is there excess unsold inventory or perhaps an overstatement of sales when retailers purchase threshold quantities of core titles in order to get access to a variant?
I don't think that's the case for any titles out of the top 10. For any title outside of the Top 10, I hardly ever see any retailers swimming in inventory. I make sure I go to at least eight or nine comics stores in a month, and some stores I frequent more than once a month. Maybe the top Marvel or top DC book, or the top Image book like
The Walking Dead,
when they have huge promotions, retailers may have extra copies of the main cover because they wanted to hit certain thresholds to get the incentive. I know for a fact when we create incentives, it allows more copies to get on the stands and most retailers still sell through.
Our goal is to encourage retailers to take just a little bit more risk to get a few more readers for each of our titles and I'd say the majority of the time this works out well.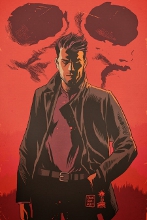 Dynamite publishes comics based on licensed characters, company-owned characters, and creator-owned characters. Can you talk about the mix of properties Dynamite publishes and how that might be changing?
Our publications change month to month; there's no formula into what we're putting out. We put out the best comics that we can.
We solicit and produce many licensed books, like
Battlestar Galactica,
both classic and new. The Gold Key line is doing very for us:
Turok
#1 shipped and sold out for us;
Magnus
#1 did the same (the advance orders on issue #1 were incredible). We've got
Doctor Spektor
coming out and
Solar: Man of the Atom
.
Other licensed books are important:
Red Sonja
,
Flash Gordon
,
Mandrake
,
Kings Watch
,
Six Million Dollar Man
,
Captain Action
,
Doc Savage
,
The Shadow
.
Army of Darkness
has been our longest running title along with
Red Sonja
. They're a mainstay of our business: branded titles with branded creators.
And we have creator-driven titles, not only including Garth Ennis and Andy Diggle, Rick Remender, Peter Milligan, we're also going to be working with Duane Swiercyznski, we're re-presenting
The Last Temptation
with Neil Gaiman and Alice Cooper.
And then we have the company-owned characters from the Chaos line which is launching in May,
Vampirella,
and the
Superpowers
line. It's a good mix.
The most important thing for us is to put out comics that we love. There some products by creators that we just have a passion to get behind; there are titles that we personally love, or third party characters that creators we work with love, and that shows on the page when we bring them out.
You launched Twilight Zone and Legenderry: A Steampunk Adventure both in the skip week at the end of the year. How did that work out?
It was crazy! If I had to do it again, I don't know that I would. The schedules for the printer and Diamond and FOC were harsher and closer together than we ever could have imagined. It was good in that most retailers were really happy that we shipped it then, given that it allowed retailers to make more money on a slower week.
I think we did hurt ourselves a little; we didn't sell as many copies as we could because the FOC with Diamond actually was the week before than the FOC from the retailers so we had to print based on our best guess based on initial orders.
We did the best we could and shipped enough copies, but I think we probably could have gotten our numbers up if we had shipped later, in January. We did it, it was really successful, but when you look at our orders for
Legenderry
#3 and
Twilight Zone
#3 vs. our orders for
Legenderry
#2 and
Twilight Zone
#2, our numbers actually went up. So I think if we would have waited to get information from retailers on the #1s we would have done better. But they did fantastic; they were the #1 and #2 top-selling non-Premier books for Diamond for that month.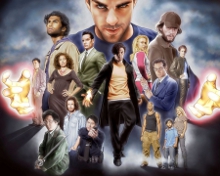 You announced the Heroes license at Comic-Con last year and now they've announced they're bringing back the show (see "'Heroes Returns'"). Is there going to be any connection in the storylines between the new show and the comic?
Right now we're waiting to hear from Universal; the show's going to take precedence over everything. We're really happy the show's coming back. It's really exciting because it's one of my favorite TV shows; it was a watershed show. And the excitement for the TV series will build up awareness for everything else. Right now we know as much information as everybody else, which is that they're working on it.
What's going on with Robotech--you announced the Robotech-Voltron crossover, but is there anything else coming out after that?
The crossover is bi-monthly. Once the five-issue crossover is completed in October, we will have a new
Robotech
series coming out in November. We have a superb creative team signed up for it, and we'll be making that announcement at San Diego Comic-Con.
When you announced your Robotech license, you said the rights were acquired from Harmony Gold and DC. How was DC involved?
DC has the license and we sub-license from DC. It's been a great relationship.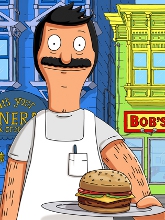 You also announced a license for Bob's Burgers, which prompts the question, "can Dynamite do funny?" Bob's Burgers also has a different look and feel from your of your usual slick, glossy presentation; how will you approach things differently for that property?
A lot people forget that we published
The Adolescent Radioactive Black Belt Hamsters
a few years ago, which is a parody book. The thing about
Bob's Burgers
is that the writers and producers of the show are actually writing the comics series. This is going to be as authentic as it can be and will be canon; the stories will fit in as if they are episodes from the TV series.
When is that going to launch?
San Diego Comic-Con. One good San Diego announcement leads to a San Diego first appearance.
What are you doing with the Gold Key line? Do these characters exist in a common universe, and will there be any connection between them?
They are in a common universe. Let's just say that Joe [Rybandt] and Nate [Cosby], the editors, are working hand in hand with Greg Pak, Fred Van Lente, Frank Barbiere and Mark Waid to peel away at the onion.
You've got a crime line going that is mostly creator-owned intellectual property. Crime has been a small genre within the comics business, so what makes you think there's a market there, and how is Dynamite approaching that?
Like many other genres, it's an underserviced genre. The potential for crime books is huge; you just have to have the right talent on it. Having a launch with Garth Ennis and Andy Diggle was a great first step, and we have more coming out with Duane Swiercyznski and other creators. We don't see it being limited; we see it being an unfulfilled segment of the market.
The success we've already had with
Uncanny
and
Red Team
shows that the market is there. Also, when you look at what Ed Brubaker's been putting out over the last few years, and Greg Rucka, there are books that succeed in that genre.
Click here to go to
Part 2
.