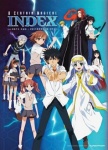 At Sakura Con this weekend, Yen Press announced the fall 2014 launch of its new "light novel" imprint, which will be known as
Yen On
. In Japan "light novels" is the name given to the category of shorter illustrated novels that primarily target middle and high school students (similar to YA fiction here in the U.S.). Light novels cover a wide range of genres including science fiction, fantasy, romance, adventure, as well as comedy, and "light novels" have become an increasingly important source of new manga and anime franchises.
Among the first light novels due from Yen in Q4 of 2014 are Yukito Ayatsuji's horror novel
Another
, which will be issued in a hardcover omnibus edition in October, Kazuma Kamachi's influential
A Certain Magical Index
, which spun off the popular
A Certain Scientific Railgun
anime, and Fujino Omori's hilarious fantasy
Is It Wrong to Pick Up Girls in a Dungeon?
Yen plans to publish 24 light novels in 2015 as its light novel program gets up to speed.
The top new manga license announced by Yen at Sakura Con is
King of Eden
, a powerful new masterpiece of the grotesque from Takashi Nagasaki, the co-creator
of Monster, 20th Century Boys, Master Keaton
, and
Pluto
. Chapters of this new saga will appear first digitally starting after May 1, 2014.
Other manga licenses announced include Suu Minazuki's 3-volume sexy (
ecchi
)
seinen
series
Gou-Dere Sora Nagihara
about a young otaku, whose wish that his favorite sexy manga character would come to life is fulfilled with surprising consequences, the surprisingly affecting and bittersweet romantic saga
Love at Fourteen
by Fuka Mizutani, and the single-volume historical romance
shojo
manga
The Angel of Elhamburg
by Aki. Yen plans to debut
Gou-Dere Sora Nagihara
and
Love at Fourteen
in November of 2014, and publish
The Angel of Elhamburg
in the spring of 2015.