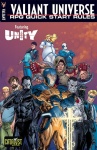 Valiant Entertainment and Catalyst Game Labs have announced a slate of free PDF products to build excitement for their upcoming
Valiant Universe RPG
, which will release in August. The first free PDF will be the
Quick-Start Rules
, and additional PDFs will be released every other week to build momentum. A printed version of the full
Quick-Start Rules
will be given away June 21st, Free RPG Day.
Valiant and Catalyst announced plans to release the game in March at the GAMA Trade Show (see "
'The Valiant Universe RPG'
"), but did not have information on the release dates. The promotional release schedule for the PDFs states print pre-orders will begin July 5th, and "(p)rint books will be available on bookstore shelves in August."