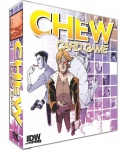 IDW Games announced plans on Sunday night at the Diamond Retailer Summit to create a new line of
Chew
tabletop games based on the hit comic series.
IDW plans multiple titles for the line, including board, card, and dice games, beginning in early 2015.
Chew
creators John Layman and Rob Guillory will be involved in the creative side of the production process.
The Eisner and Harvey Award winning
Chew
takes place in a world where bird flu has decimated the population, and the all-powerful Food and Drug Administration has outlawed chicken. The story follows FDA agent Tony Chu, who can receive psychic impressions from anything he ingests (including people). The idiosyncratic black comedy involves many other agents, enemies and members of Tony's family and social circle who have food-related powers.
"
Chew
has grown into an amazing project, and we're excited to bring it to the fans in a brand-new way," said Jerry Bennington, IDW's Director of Business Development. "We're looking forward to putting Tony Chu in all kinds of bad positions, and letting fans step in to save the day."
An animated feature based on the property is in the works (see "
Steven Yeun, Felicia Day in 'Chew'
").