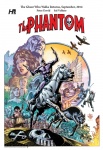 Hermes Press announced the return of the Ghost Who Walks in a new
Phantom
miniseries written by Peter David, launching in September.
The six-part miniseries will feature art by Sal Velluto, who has been the main artist on the Phantom stories produced for the Swedish
Fantomen
comic book, published by Egmont in Sweden, Norway and Finland, and by Frew in Australia. Velluto will produce two covers for the first issue, and variants will also be produced by seasoned Phantom artists Alex Saviuk and Graham Nolan. Velluto will also be releasing a special poster (pictured here) at San Diego Comic-Con.
"I've been a huge Phantom fan for years, and even had the chance to work on him for DC many years ago," David said. "I'm thrilled that Daniel (Herman) approached me about this series and I'm taking the opportunity to produce a story I've literally been thinking about for a couple of decades.'
Hermes has been reprinting Lee Falk's classic comic strips for the past five years, as well as releasing comprehensive reprint series of the Gold Key, King, and Charlton Comics adventures of The Phantom (see "
Hermes to Publish Silver Age 'Phantom' Comics
").