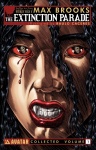 Max Brook's The Extinction Parade Vol. 1 TP
Publisher: Avatar Press
Release Date: July 1, 2014
Price: $19.99
Creator(s): Max Brooks (writer), Raulo Caceres (artist)
Format: 160 pgs., Full-Color, Trade Paperback
ISBN: 9-781-5929-1234-6
Age Rating: Mature
ICv2 Rating: 3.5 Stars out of 5
Max Brooks, whose
World War Z
changed the marketplace for zombie literature, has asked a very reasonable question: How would vampires react to a threat to the existence of humanity? If they want human servants, and need humans as a source of sustenance, then it quickly becomes an issue, but could vampires organize to defend their "herd?" Would they? Brooks assumes that vampires are intelligent predators, and that zombies are in effect a mobile disease vector.
The writing is clever and disturbing, and is clearly a metaphor for the way humanity perceives its own environment and resources. The artwork, while good, is not up to the standards of the writing. There are a few brilliant panels, and a few that descend into sloppy clichés or misplaced angsty expressions. Due to the nature of the story, the artwork is extremely gory, with blood and body parts scattered around the pages.
This first volume is the setup for a longer story about a prolonged conflict, so the story ends with more of a turning point than a resolution. That said, it is arguably the best zombie comic to date. If the artwork becomes more consistent, then it could easily become a must read in the category of horror.
For adults and older teens, due to extreme violence.
--
Nick Smith: Library Technician, Community Services, for the Pasadena Public Library in California