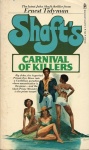 Dynamite Entertainment announced two new literary licenses at Book Expo America in New York: an agreement covering Ernest Tidyman's John Shaft, in both prose and comic book form; and a deal with fantasy author Brandon Sanderson for a new graphic novel project. Dynamite is also expanding existing deals with authors Jim Butcher, Patricia Briggs, and Dean Koontz.
The blacksploitation superstar detective John Shaft was originally created by Ernest Tidyman for a series of seven novels that were released from 1970 – 1975, but most remember the character from the 1971 movie adaptation that carries his name. The novels have long been out of print, and Dynamite will republish them, as well as create original graphic novel adaptations and new prose stories.
Brandon Sanderson is well known for his
Mistborn
series of novels, as well as for completion of Robert Jordan's
Wheel of Time
series after the creator's death. His new graphic novel project,
White Sand
, will be a trilogy set in a new fantasy world, the first of which will be published in 2015. The story takes place in world divided into two sides, Daysiders and Darksiders, who each have unique abilities and cultures. The Daysiders can manipulate sand, and the book will follow a Daysider boy named Kenton. For fans of his other works, these graphic novels will be incorporated into his overarching "Cosmere" universe, which covers his whole body of work.
Dynamite has also expanded its agreement with Jim Butcher, to create two new original graphic novels based on the
Dresden Files
. Dynamite has already released
Ghoul Goblin
(see "
Preview: 'Jim Butcher's The Dresden Files: Ghoul Goblin' HC
") and will release
War Cry
in June (see "
New 'Dresden Files,' Talent, One Shot Announcements
"). Dynamite plans two more original Dresden Files graphic novels in 2015 and 2016. Creative teams and story contents will be announced at a later date.
Another original graphic novel project is planned for Patricia Briggs' Mercy Thompson. In
Hopcross Jilly
, Mercy stumbles on a grave of multiple dead children, which leads to a deadly mystery involving a legendary fae. The story is written by Briggs, with adaptation by Rik Hoskins, and art by Tom Garcia. The six-issue series will launch in October, with graphic novel collection planned for 2015.
Dean Koontz's agreement with Dynamite has been expanded to include new illustrated stories of three Koontz properties:
Dean Koontz's Frankenstein, Dean Koontz's Christopher Snow,
and
Dean Koontz's Nevermore
. Publication plans and dates will be announced at a later date. Dynamite is also currently working on a deal with Koontz for three brand new original Koontz properties, for which Dynamite will publish a minimum of nine (three each of three) graphic novels.