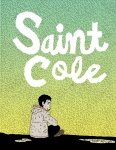 Fantagraphics Books announced it will release Noah Van Sciver's
Saint Cole
, based on the critically acclaimed cartoonist's webcomic, in March 2015.
Scriver 's previous graphic novel, also published by Fantagraphics, was
The Hypo: The Melancholic Young Lincoln
, a biography of Abraham Lincoln, appeared on several "Best of 2012" lists, including
MTV Geek, Boing Boing
,
Library Journal
, and
Publisher's Weekly
Critic's Poll. Prior to that, Scriver was best known for his independent comic series
Blammo
.
The story follows a suburbanite named Joe, who is struggling to support his girlfriend and their infant. When his girlfriend invites her troubled mother to live with them, Joe begins drinking, and makes a rash decision. The 112-page graphic novel will be flexbound, B&W, and have an MSRP of $19.99.