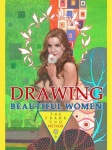 Frank Cho will introduce Jungle Queen, a new original comic property, in his Kickstarter-financed art book
Drawing Beautiful Women: The Frank Cho Method
this fall, he announced on his blog.
Cho (
Liberty Meadows
) raised $152,854 from 2,772 backers ($55.14/backer average) back in December and January to publish the step-by-step art guide. The 112-page hardcover and paperback editions will be available to the trade in October at $29.95/$19.95 respectively. Mark Schultz (
Xenozoic Tales
) will write the introduction.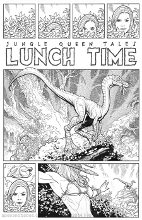 The Jungle Queen
will appear as a five-page story in the "Storytelling" chapter of
Drawing Beautiful Women
:
The Frank Cho Method.
The short introductory story will be completely silent, told "...through body language and action," Cho said. "It was a story-telling challenge worth doing."
Cho also promised a full stand-alone
Jungle Queen
graphic novel or mini-series in the near future.