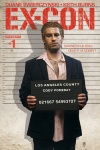 Dynamite Entertainment has announced the September debuts of a new creator-owned title,
Ex-Con
, a gritty crime drama written by Duane Swierczynski (
Deadpool, Judge Dredd
) and the highly-anticipated
Dawn vs. Vampirella
crossover that will be both written and drawn by
Dawn
creator Joseph Michael Linsner.
Keith Burns will provide the art for Swierczynski's
Ex-Con
, a period noir that takes place in L.A. in the 1980s and follows the criminal exploits of Cody Pomeray, a con man with a special ability to read the thoughts of his marks. But once Cody is jailed he is forced to seek the protection of a local crime boss, forming bonds of dependence that quickly ensnare him in a much bigger and more nefarious scheme.
Individual issues of
Ex-Con
will be priced at $2.99 to give fans the chance to affordably sample the series. Fan favorite artist Tim Bradstreet will provide covers for the new pulp-drenched crime comic.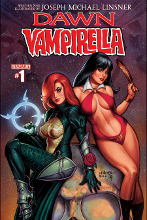 First announced last October (see "
Dynamite Announces Dawn/Vampirella Crossover
"), the
Dawn/Vampirella
crossover simultaneously celebrates the 25th anniversary of
Dawn
and the 45th anniversary of V
ampirella
. The great news for fans is the
Dawn
creator Joseph Michael Linsner will both write and drawn the crossover series that features two of the sexiest heroines in comics.