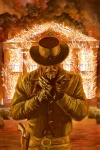 The edgy auteur of
Pulp Fiction
, Quentin Tarantino is bringing some of his considerable scenario-writing skills to the world of comics by co-plotting (with veteran comic auteur Matt Wagner) a sequel to Tarantino's revisionist anti-slavery western
Django Unchained
in which Tarantino's eponymous hero meets the legendary Zorro. Reginald Hudlin, who wrote the comic book adaptation of Tarantino's
Django Unchained
, will serve as editor on the project. Dynamite Comics plans on releasing the first issue of the
Django/Zorro
crossover later this year.
"This series is the first time Quentin Tarantino explored the continuing adventures of one of the characters from his films," states
Django
producer Reggie Hudlin. "That he would do it in a comic book demonstrates his love and appreciation of the medium. Quentin is not just a comic collector--he's got a spinner rack in his house!"
Stay tuned for more details on this project, which brings the efforts of one of Hollywood's most original writer/directors to the world of comics.