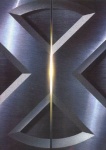 Fox's X-Men grabbed the most nominations for the 27th annual Saturn Awards presented by the Academy of Science Fiction, Fantasy, and Horror Films. The first motion picture featuring Marvel's mutant supergroup earned over $150 million at the box office and a whopping ten Saturn nominations. Crouching Tiger, Hidden Dragon and How the Grinch Stole Christmas both received eight nominations. X-Men will compete for best science fiction film. The other films nominated in that category are: The Cell, Hollow Man, The 6th Day, Space Cowboys, and Titan A.E.
While the X-Men movie failed to pull Marvel out of debt and make Toy Biz the number one toy company, those expectations were clearly unrealistic. The film has been very profitable for Fox with excellent worldwide box office numbers as well as a sterling performance on video (see 'X-Men Video Boffo in Second Opening'). While specialty stores didn't do all that well on X-Men toys from the movie, sales of the videotapes and DVDs of the film have been strong in hobby stores as well as in the mass market. A second X-Men film is in the works already, so the franchise has been established. Overall the X-Men movie, which Brian Singer wisely directed without a hint of camp, has been a major plus for the comics industry.
Buffy the Vampire Slayer
dominated the television side of the Saturn Awards by garnering seven nominations.

This extremely well written series shows few signs of slowing down, though it may end up moving from its spot on the WB network.

Buffy remains an important property for the specialty market with a plethora of licensed products including comics from Dark Horse, trading cards from Inkworks, action figures from Moore Creations, and a collectible card game from Score (see 'Score Gets Buffy CCG Deal').

Buffy will get even more television exposure in 2002 when a new cartoon series debuts on Fox (see 'Fox Stakes Out Buffy Toon').