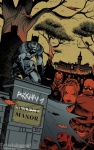 DC Comics has announced two new ongoing Batman-related titles launching this October:
Gotham Academy
arrives October 1st, and
Arkham Manor
streets on October 22.
The new monthly teen drama series
Gotham Academy
is written by Becky Cloonan (
American Virgin, Demo
) and Brenden Fletcher (
Wednesday Comics
), with art by Karl Kerschl (
Adventures of Superman
). Set at Gotham City's prestigious prep school, where weird things keep happening and rich benefactors like Bruce Wayne are always dropping by, the series promises new characters and old, and a secret tie to Gotham's past.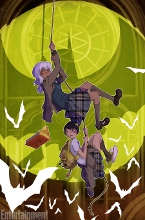 Arkham Manor
is written by Gerry Duggan (
Deadpool, Nova
)
,
with art by Shawn Crystal (
Deadpool, Wolverine and Deadpool
). When a catastrophe causes the shutdown of Arkham Asylum, where will Gotham City house its most dangerous inmates? Apparently in Wayne Manor.
Cover images are from
Entertainment Weekly.