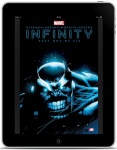 Digital comics sales grew to $90 million in 2013, according to an analysis by ICv2. The growth rate continues to decline from the near-tripling in 2012 (see "
Digital Comics Nearly Tripled in 2012
"), but it's to a still robust 29% over 2012 levels.
In dollar terms, the growth is still the second highest since the advent of digital comic sales in 2009, with a $20 million increase, second only to 2012's $45 million increase.
North American Digital Comics Sales

Year

Digital Sales

$ Change

% Change

2009

$1,000,000

N/A

N/A

2010

$8,000,000

$7,000,000

700%

2011

$25,000,000

$17,000,000

213%

2012

$70,000,000

$45,000,000

180%

2013

$90,000,000

$20,000,000

29%
This analysis does not include subscription-based "all-you-can-eat" offerings, such as Marvel Unlimited or Crunchyroll. It includes English-language sales from North America-based platforms, so inevitably includes some international sales.
Digital comics sales growth is still outpacing ebook growth, which actually went negative in 2013 (see "
Books, eBooks Decline in 2013
"). And print comics and graphic novels have been growing even as digital comics sales have been growing rapidly, evidence that comics may indeed be different from other media and have the potential for growth due to the increased access that digital comics bring (see "
Why Digital Comics Are Different
").