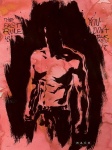 San Diego Comi-Con News:
Chuck Palahniuk, the author of
Fight Club
, the novel that was made into a hugely successful film directed by David Fincher and starring Brad Pitt, is penning a sequel featuring Tyler Durden and many of the original
Fight Club
characters in
Fight Club 2,
a 10-issue Dark Horse Comics maxiseries that will debut in May of 2015.
USA Today
reports that the Eisner Award-winning artist Cameron Stewart (
Catwoman, Sin Titulo, Batman and Robin
) will illustrate the
Fight Club 2
comic, and Palahniuk himself will break the first two rules of the
Fight Club
by talking about the project at a "Fight Club" panel with David Fincher on Saturday at the San Diego Comic-Con, though it is doubtful that anyone in the audience will object, nor will they be upset that Project Mayhem will continue its anarchic pursuits in the pages of the new Dark Horse comic. David Mack will provide the covers for the series.