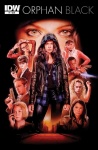 San Diego Comic Con News:
IDW Publishing has acquired the rights to produce a comic book based on
Orphan Black
, a Canadian science fiction TV series (see here on BBC America) created by screenwriter Graeme Manson and director John Fawcett that stars Tatiana Maslany, who should have been nominated for an Emmy for her performance, as a woman who discovers she is one of a number of identical clones. The popular
Orphan Black
TV series has just been renewed for a 10-episode third season that will air in 2015. IDW plans to launch its licensed
Orphan Black
comic book series early in 2015. The second season of
Orphan Black
has just been released on disc (see "
DVD Round-Up: 'Black Dynamite,' 'Orphan Black,' 'Wrinkles,' & ScarJo's Best
").
In
Orphan Black
Maslany plays Sarah Manning, a young con artist who witnesses the suicide of a woman who looks exactly like her. Intrigued, she assumes the woman's identity as a police detective and begins to investigate. She soon discovers that she and the dead woman are just two of many identical clones and then sets out to unravel what is a very complex situation involving eugenics and large, powerful biotech companies in what is truly a "Brave New World" of genetic manipulation.
IDW has yet to announce the creative teams for its
Orphan Black
comic, but the publisher has commissioned an evocative cover for issue #1 from artist Nick Rune.