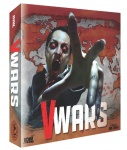 IDW Games announced plans for a big box strategy board game adaptation of Jonathan Maberry's prose series, and recent comic adaptation,
V-Wars
, designed by Rob Daviau.
IDW launched a comic adaptation of the N
ew York Times
best-selling horror series on Free Comic Book Day (see "
'V-Wars' Comics
"). Now they have tapped well known game designer Rob Daviau (
Risk: Legacy, Betrayal at House on the Hill
) to work with
V-Wars
author and creator Mayberry to bring the
V-Wars
experience to the tabletop.
The story will pull from and add to the ongoing comic's universe, with players taking the role of either humans or vampires in a struggle for dominance. Though the game is still in development, release is planned for March 2015.
"(The game) combines a lot of what I do and what interests me--combat, conflict, narrative, interesting choices, horror, and a fun world to play in," said Daviau. "I hope to be able to bring all the feeling of the stories and comics into the game. It's still early but I can already see chances for a lot of subterfuge and shifting goals. Just because you start the game as a human, doesn't mean you'll end as one."
IDW also has a
V-Wars
TV series in development (see "
'V-Wars' TV Series
").