IDW Publishing has announced two new comic series, one a blend of
Transformers
and
Angry Birds,
the other combining sci-fi properties
Star Trek
and
Planet of the Apes
.
Planned for fall release, the
Angry Birds Transformers
series is based on the preexisting property mash-up which Hasbro has already created for a mobile game by Rovio, Telepod action figures that work with the video game, and consumer products. The series will be penned by John Barber (
Ultimate X-Men, The Transformers: Robots in Disguise
), with art by Marcelo Ferriera (
Kung Fu Panda, TMNT New Animated Adventures
). Series covers will be provided by past
Transformers
artists Livio Ramondelli, Sarah Stone, Guido Guidi, and Casey W. Coller. The four-issue comic plot will involve an intergalactic epic that pits the Autobirds against the Deceptihogs, on a quest for the AllSpark, which, after a space battle, is lost on the shores of Piggie Island.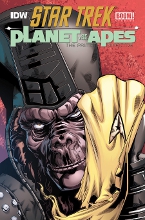 IDW is partnering with BOOM! Studios for the crossover of
Star Trek/Planet of the Apes: The Primate Directive.
Scott and David Tipton (
Star Trek: The Next Generation/Doctor Who: Assimilation 2
) will co-write, with art and covers by newcomer Rachael Stott. Release date was not announced.
The series will pair the crew of the original
Star Trek
TV series with Taylor, Nova and the rest of the cast from the original
Planet of the Apes
movie. The plot will involve a planned coup of Ape City by a gorilla general, backed by the Klingons. When Captain Kirk finds out, he must help Dr. Zaius' orangutans defend their home, which doesn't make Taylor very happy.