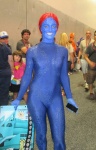 Here's the story of San Diego Comic-Con International in pictures, this group on Friday. To see our Friday photos from the beginning, go back to
Part 3
. To go back to the beginning of our series, see
Part 1
.
[NOTE: Any image can be clicked for a larger view.]
Mystique doing the Comic-Con thing, with her bag and phone.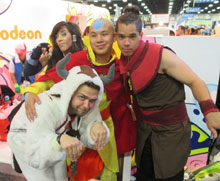 From
Avatar the Last Airbender
, with Korra in the background.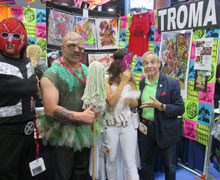 Toxic Avenger and Troma co-founder Lloyd Kaufman with two friends.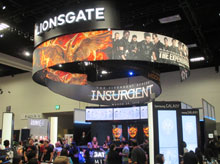 Hunger Games
was the primary focus at Lionsgate.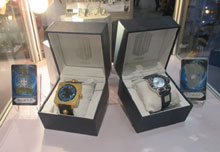 Giant licensed
Doctor Who
watches at Underground Toys.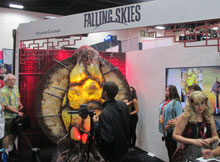 Fans could have their picture taken inside the
Falling Skies
Human Cocoon.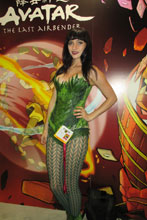 Poison Ivy, hanging at the Nick booth.
The Khaleesi and her dragon egg, from
Game of Thrones
, inexplicably with Weapon X.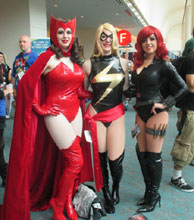 Scarlet Witch, Ms. Marvel, and Black Widow doin' the show.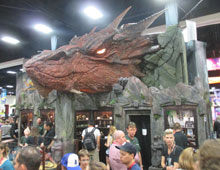 A giant dragon head adorned the booth of the Weta effects house.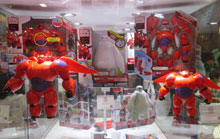 Part of the Bandai range for Disney Animation's take on Marvel,
Big Hero 6
, out in November (see "
New 'Big Hero 6' Action Trailer
").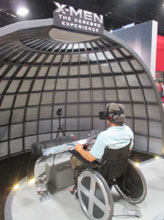 There was also an Oculus Rift virtual reality experience tied (primarily) to the
X-Men
films.
Click here
for Part 6.