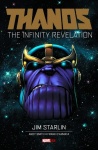 Thanos: The Infinity Revelation HC
Publisher: Marvel Comics
Release Date: August 6, 2014
Price: $24.99
Creator: Jim Starlin
Format: 112 pgs., Full-Color, Hardcover
ISBN: 978-0-7851-8470-6
Age Rating: N/A
ICv2 Rating: 3.5 Stars out of 5
With the new Avengers movie and other properties teasing the existence of Thanos, folks who haven't spent the past 30 years reading comics about him may need a refresher course. This book provides that, along with connections to Guardians of the Galaxy and an odd new look at Adam Warlock. I say "odd" because one whole section of the story seems to be trying to comment on artistic choices in the comics, by saying that different artists drawing Thanos and Adam Warlock were all from different realities. At least, that's one way to interpret that peculiar sequence.
The artwork, as with most Jim Starlin productions, is finely crafted and excellent. The story, as with some other Starlin productions, is a tad confusing, as reality is bent and re-created in order to give Adam Warlock a new costume. The changes also revive the relationship between Thanos and the personification of death, which was ended in a previous story.
So, longtime Avengers comic fans will find something of value in this book, as will fans who have only seen the Avengers in movies and want to know who this Thanos guy is. It will not be an essential purchase for either group.
For teens and adults, due to a complex story and themes.
--
Nick Smith: Library Technician, Community Services, for the Pasadena Public Library in California