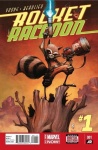 These are estimates of the sales on comic books by Diamond U.S. to comic specialty stores during July 2014.
For an overview and analysis of comic sales in July, see "
'Rocket Raccoon' Nearly 300K
."
For an analysis of the dollar trends in July, see "
Strong July Comic Sales Turn Year Positive
."
For our estimates of actual sales by Diamond U.S. from comic specialty stores on graphic novels shipped during July, see "
Top 300 Graphic Novels Actual--July 2014
."
TOP 300 COMICS – July 2014

Rank

Index

Title

Price

Pub

Est.Qty

1

249.09

ROCKET RACCOON #1

$3.99

MAR

293,913

2

100.00

BATMAN #33 (ZERO YEAR)

$4.99

DC

117,996

3

99.93

AMAZING SPIDER-MAN #4

$3.99

MAR

117,917

4

77.48

ORIGINAL SIN #5

$3.99

MAR

91,420

5

76.86

SPIDER-MAN 2099 #1

$3.99

MAR

90,690

6

75.70

ORIGINAL SIN #6

$3.99

MAR

89,324

7

74.73

JUSTICE LEAGUE #32

$3.99

DC

88,179

8

69.01

GRAYSON #1

$2.99

DC

81,433

9

66.53

LEGENDARY STAR LORD #1

$3.99

MAR

78,501

10

65.11

HARLEY QUINN #8

$2.99

DC

76,827

11

62.96

AMAZING SPIDER-MAN #1.3

$3.99

MAR

74,285

12

61.79

WALKING DEAD #129 (MR)

$2.99

IMA

72,908

13

61.50

SANDMAN OVERTURE #3 (MR)

$3.99

DC

72,563

14

58.92

SUPERMAN UNCHAINED #7

$3.99

DC

69,523

15

57.92

BATMAN SUPERMAN #12

$3.99

DC

68,345

16

55.07

HARLEY QUINN INVADES COMIC CON INTL SAN DIEGO #1

$4.99

DC

64,978

17

54.09

BATMAN ETERNAL #13

$2.99

DC

63,828

18

53.51

BATMAN ETERNAL #14

$2.99

DC

63,138

19

53.39

SUPERMAN #33

$3.99

DC

62,998

20

53.38

GUARDIANS OF GALAXY #17

$3.99

MAR

62,986

21

53.27

DETECTIVE COMICS #33

$3.99

DC

62,856

22

52.66

BATMAN ETERNAL #15

$2.99

DC

62,137

23

51.82

BATMAN ETERNAL #16

$2.99

DC

61,149

24

51.26

ROBIN RISES OMEGA #1

$4.99

DC

60,488

25

50.86

BATMAN ETERNAL #17

$2.99

DC

60,013

26

49.85

ALL NEW X-MEN #29

$3.99

MAR

58,817

27

48.35

LIFE WITH ARCHIE COMIC #36

$4.99

ARC

57,054

28

47.96

AVENGERS #32

$3.99

MAR

56,595

29

47.69

BATMAN AND ROBIN #33

$2.99

DC

56,269

30

47.37

SAGA #21 (MR)

$2.99

IMA

55,893

31

47.24

UNCANNY X-MEN #23

$3.99

MAR

55,738

32

46.72

OUTCAST BY KIRKMAN & AZACETA #2 (MR) [*]

$2.99

IMA

55,126

33

46.41

DEADPOOL VS X-FORCE #1

$3.99

MAR

54,762

34

45.49

UNCANNY X-MEN #24

$3.99

MAR

53,677

35

44.37

TEEN TITANS #1

$2.99

DC

52,358

36

43.96

AVENGERS #33

$3.99

MAR

51,874

37

42.59

SUPERMAN WONDER WOMAN #10

$3.99

DC

50,254

38

42.59

UNCANNY AVENGERS #22

$3.99

MAR

50,253

39

42.31

DEADPOOL #31

$3.99

MAR

49,930

40

41.91

ACTION COMICS #33

$3.99

DC

49,457

41

41.75

NEW SUICIDE SQUAD #1

$2.99

DC

49,260

42

41.39

LIFE WITH ARCHIE COMIC #37

$4.99

ARC

48,842

43

41.18

ORIGINAL SIN #5.1

$3.99

MAR

48,596

44

40.61

JUSTICE LEAGUE UNITED #3

$3.99

DC

47,919

45

40.52

WOLVERINE #10

$3.99

MAR

47,813

46

40.31

STORM #1

$3.99

MAR

47,566

47

40.13

NEW 52 FUTURES END #9 [*]

$2.99

DC

47,348

48

40.07

GREEN LANTERN #33 (UPRISING)

$2.99

DC

47,279

49

39.69

DEADPOOL #32

$3.99

MAR

46,829

50

39.31

100TH ANNIVERSARY SPECIAL #1 SPIDER-MAN

$3.99

MAR

46,386

51

39.08

ORIGINAL SIN #5.2

$3.99

MAR

46,110

52

38.18

DEADPOOL VS X-FORCE #2

$3.99

MAR

45,047

53

37.40

DETECTIVE COMICS ANNUAL #3

$4.99

DC

44,128

54

36.73

LOW #1 (MR) [*]

$3.99

IMA

43,340

55

36.19

NEW AVENGERS #21

$3.99

MAR

42,699

56

35.44

NEW 52 FUTURES END #10 [*]

$2.99

DC

41,819

57

35.39

ORIGINAL SIN #3.2

$3.99

MAR

41,756

58

34.84

NEW 52 FUTURES END #11 [*]

$2.99

DC

41,111

59

34.80

DOCTOR WHO 11TH #1

$3.99

TIT

41,068

60

34.65

GUARDIANS OF GALAXY GALAXYS MOST WANTED #1

$3.99

MAR

40,880

61

34.57

DEADPOOL DRACULAS GAUNTLET #1

$3.99

MAR

40,790

62

34.39

100TH ANNIVERSARY SPECIAL #1 X-MEN

$3.99

MAR

40,584

63

34.38

AMAZING X-MEN #9

$3.99

MAR

40,562

64

34.28

100TH ANNIVERSARY SPECIAL #1 GOTG

$3.99

MAR

40,449

65

34.24

ORIGINAL SIN #3.3

$3.99

MAR

40,402

66

33.67

EARTH 2 #25

$3.99

DC

39,726

67

33.65

DOCTOR WHO 10TH #1

$3.99

TIT

39,707

68

33.62

FLASH #33

$2.99

DC

39,669

69

33.30

NEW 52 FUTURES END #12 [*]

$2.99

DC

39,298

70

33.00

X-MEN #16

$3.99

MAR

38,937

71

32.98

NEW 52 FUTURES END #13 [*]

$2.99

DC

38,912

72

32.78

DEADPOOL DRACULAS GAUNTLET #2

$3.99

MAR

38,683

73

32.74

MOON KNIGHT #5

$3.99

MAR

38,630

74

32.48

THOR GOD OF THUNDER #24

$3.99

MAR

38,330

75

32.17

DAREDEVIL #6

$3.99

MAR

37,959

76

31.74

DEADPOOL DRACULAS GAUNTLET #3

$3.99

MAR

37,449

77

31.72

WONDER WOMAN #33

$2.99

DC

37,431

78

31.56

MILES MORALES ULTIMATE SPIDER-MAN #3

$3.99

MAR

37,240

79

31.51

BATGIRL #33

$2.99

DC

37,186

80

31.51

SECRET ORIGINS #4

$4.99

DC

37,181

81

31.21

DAREDEVIL #5

$3.99

MAR

36,825

82

31.00

DEADPOOL DRACULAS GAUNTLET #4

$3.99

MAR

36,581

83

30.73

X-MEN #17

$3.99

MAR

36,255

84

30.63

AQUAMAN #33

$2.99

DC

36,140

85

30.56

100TH ANNIVERSARY SPECIAL #1 AVENGERS

$3.99

MAR

36,063

86

30.54

MS MARVEL #6

$2.99

MAR

36,041

87

29.40

ORIGINAL SINS #3

$3.99

MAR

34,686

88

29.29

CAPTAIN AMERICA #22

$3.99

MAR

34,563

89

28.93

HAWKEYE #19

$3.99

MAR

34,131

90

28.55

FANTASTIC FOUR #7

$3.99

MAR

33,687

91

28.34

DAREDEVIL #0.1

$4.99

MAR

33,437

92

27.96

WOLVERINE AND X-MEN #6

$3.99

MAR

32,995

93

27.86

GREEN LANTERN CORPS #33 (UPRISING)

$2.99

DC

32,877

94

27.75

SILVER SURFER #4

$3.99

MAR

32,747

95

27.69

MAGNETO #6

$3.99

MAR

32,675

96

27.18

ORIGINAL SINS #4

$3.99

MAR

32,076

97

26.44

SAVAGE HULK #2

$3.99

MAR

31,194

98

26.27

MAGNETO #7

$3.99

MAR

31,001

99

24.26

100TH ANNIVERSARY SPECIAL #1 FANTASTIC FOUR

$3.99

MAR

28,626

100

23.98

JUSTICE LEAGUE DARK #33

$3.99

DC

28,297

101

23.85

BLACK SCIENCE #7 (MR)

$3.50

IMA

28,147

102

23.81

SINESTRO #4

$2.99

DC

28,095

103

23.77

IRON MAN SPECIAL #1

$4.99

MAR

28,046

104

23.72

NIGHTCRAWLER #4

$3.99

MAR

27,990

105

23.70

WICKED & DIVINE #2 (MR) [*]

$3.50

IMA

27,962

106

23.05

STAR WARS #19 2013 ONGOING

$2.99

DAR

27,197

107

22.48

EAST OF WEST #13

$3.50

IMA

26,531

108

22.40

AQUAMAN ANNUAL #2

$4.99

DC

26,433

109

22.34

EAST OF WEST #14

$3.50

IMA

26,361

110

22.16

IRON FIST LIVING WEAPON #4

$3.99

MAR

26,147

111

22.12

SUPREME BLUE ROSE #1 (MR)

$2.99

IMA

26,100

112

22.12

INFINITE CRISIS FIGHT FOR THE MULTIVERSE #1

$3.99

DC

26,096

113

22.00

PUNISHER #8

$3.99

MAR

25,957

114

21.97

CYCLOPS #3

$3.99

MAR

25,925

115

21.78

AFTERLIFE WITH ARCHIE #6

$2.99

ARC

25,702

116

21.67

WAKE #10 (MR)

$2.99

DC

25,574

117

21.52

BATMAN 66 MEETS GREEN HORNET #2

$2.99

DC

25,392

118

21.06

MIGHTY AVENGERS #12

$3.99

MAR

24,851

119

20.99

AVENGERS WORLD #9

$3.99

MAR

24,771

120

20.83

NOVA #19

$3.99

MAR

24,580

121

20.81

BLACK WIDOW #8

$3.99

MAR

24,555

122

20.51

AVENGERS WORLD #10

$3.99

MAR

24,196

123

20.27

BATWOMAN #33

$2.99

DC

23,922

124

20.19

TREES #3 (MR) [*]

$2.99

IMA

23,822

125

20.06

X-FORCE #7

$3.99

MAR

23,675

126

20.06

CAPTAIN MARVEL #5

$3.99

MAR

23,666

127

19.97

SHE-HULK #6

$2.99

MAR

23,562

128

19.88

GREEN ARROW #33

$2.99

DC

23,452

129

19.79

RED LANTERNS #33

$2.99

DC

23,355

130

19.50

TRANSFORMERS VS GI JOE #1 [*]

$3.99

IDW

23,009

131

19.32

SUPERGIRL #33

$2.99

DC

22,802

132

19.32

GREEN LANTERN NEW GUARDIANS #33

$2.99

DC

22,797

133

19.16

JUSTICE LEAGUE 3000 #8

$2.99

DC

22,604

134

19.12

ALL NEW X-FACTOR #10

$3.99

MAR

22,563

135

19.01

ALL NEW X-FACTOR #11

$3.99

MAR

22,428

136

18.93

ALL NEW INVADERS #7

$3.99

MAR

22,332

137

18.49

ALL NEW GHOST RIDER #5

$3.99

MAR

21,820

138

18.35

THUNDERBOLTS #28

$2.99

MAR

21,652

139

18.21

RED LANTERNS ANNUAL #1

$4.99

DC

21,490

140

18.06

SOUTHERN BASTARDS #3 (MR) [*]

$3.50

IMA

21,313

141

17.92

SPREAD #1 (MR)

$3.50

IMA

21,150

142

17.69

MY LITTLE PONY FRIENDSHIP IS MAGIC #21

$3.99

IDW

20,871

143

17.52

RED HOOD AND THE OUTLAWS #33

$2.99

DC

20,669

144

17.39

AQUAMAN AND THE OTHERS #4

$2.99

DC

20,520

145

17.02

SECRET AVENGERS #5

$3.99

MAR

20,088

146

16.99

SAVAGE WOLVERINE #21

$3.99

MAR

20,050

147

16.91

WORLDS FINEST #25

$2.99

DC

19,957

148

16.84

ALL NEW INVADERS #8

$3.99

MAR

19,865

149

16.82

MY LITTLE PONY FRIENDS FOREVER #7

$3.99

IDW

19,850

150

16.79

INJUSTICE GODS AMONG US YEAR TWO #7

$2.99

DC

19,811

151

16.47

SECRET AVENGERS #6

$3.99

MAR

19,435

152

16.21

ELEKTRA #4

$3.99

MAR

19,125

153

16.16

LAZARUS #9 (MR)

$2.99

IMA

19,066

154

16.06

CATWOMAN #33

$2.99

DC

18,945

155

16.04

INJUSTICE GODS AMONG US YEAR TWO #8

$2.99

DC

18,931

156

16.00

WINTER SOLDIER BITTER MARCH #5

$3.99

MAR

18,876

157

15.96

BTVS SEASON 10 #5

$3.50

DAR

18,827

158

15.91

VELVET #6 (MR)

$3.50

IMA

18,775

159

15.90

STAR SPANGLED WAR STORIES GI ZOMBIE #1

$2.99

DC

18,762

160

15.86

STAR WARS REBEL HEIST #4

$3.50

DAR

18,710

161

15.42

ALL NEW ULTIMATES #5

$3.99

MAR

18,199

162

15.17

SWAMP THING #33

$2.99

DC

17,905

163

14.96

MIRACLEMAN #8

$4.99

MAR

17,654

164

14.75

DARK ENGINE #1 (MR)

$3.50

IMA

17,407

165

14.66

NEW WARRIORS #7

$3.99

MAR

17,304

166

14.63

BATMAN 66 #13

$2.99

DC

17,264

167

14.33

SUPERIOR FOES OF SPIDER-MAN #13

$3.99

MAR

16,903

168

14.16

AVENGERS UNDERCOVER #7

$2.99

MAR

16,705

169

14.05

NAILBITER #3 (MR)

$2.99

IMA

16,581

170

13.76

CONSTANTINE #16

$2.99

DC

16,235

171

13.55

STAR WARS DARTH MAUL SON OF DATHOMIR #3

$3.50

DAR

15,994

172

13.48

INFINITY MAN AND THE FOREVER PEOPLE #2

$2.99

DC

15,903

173

13.22

RAGNAROK #1 [*]

$3.99

IDW

15,598

174

13.14

BODIES #1 (MR) [*]

$3.99

DC

15,500

175

13.06

TMNT ONGOING #36

$3.99

IDW

15,415

176

13.05

AMERICAN VAMPIRE SECOND CYCLE #4 (MR)

$2.99

DC

15,400

177

13.03

BIRDS OF PREY #33

$2.99

DC

15,379

178

12.76

MANIFEST DESTINY #8

$2.99

IMA

15,060

179

12.58

BIG TROUBLE IN LITTLE CHINA #2

$3.99

BOO

14,838

180

12.28

ADVENTURE TIME #30

$3.99

BOO

14,487

181

12.22

BATMAN BEYOND UNIVERSE #12

$3.99

DC

14,419

182

12.08

FATALE #24 (MR)

$4.99

IMA

14,255

183

11.87

SUPERBOY #33

$2.99

DC

14,004

184

11.82

GROO VS CONAN #1

$3.50

DAR

13,942

185

11.72

FABLES #142 (MR)

$2.99

DC

13,831

186

11.29

MANHATTAN PROJECTS #22

$3.50

IMA

13,319

187

10.94

RAT QUEENS #7 (MR)

$3.50

IMA

12,903

188

10.87

DEATH VIGIL #1

$3.99

IMA

12,832

189

10.63

STAR WARS LEGACY II #17

$2.99

DAR

12,544

190

10.57

ANGEL AND FAITH SEASON 10 #4

$3.50

DAR

12,468

191

10.43

THE DEVILERS #1 [*]

$2.99

DE

12,311

192

10.33

ULTIMATE FF #4

$3.99

MAR

12,187

193

10.25

SPAWN #245

$2.99

IMA

12,090

194

10.23

CHEW WARRIOR CHICKEN POYO #1

$3.50

IMA

12,075

195

10.11

FIGMENT #2

$3.99

MAR

11,929

196

10.09

HE MAN AND THE MASTERS OF THE UNIVERSE #15

$2.99

DC

11,905

197

9.98

ULTIMATE FF #5

$3.99

MAR

11,778

198

9.93

GFT GRIMM FAIRY TALES #100 (MR)

$5.99

ZEN

11,722

199

9.90

TRINITY OF SIN PHANTOM STRANGER #21

$2.99

DC

11,682

200

9.83

COWL #3 (MR)

$3.50

IMA

11,604

201

9.74

ALL STAR WESTERN #33

$3.99

DC

11,488

202

9.70

UNITED STATES OF MURDER INC #3 (MR)

$3.99

MAR

11,444

203

9.61

TMNT TURTLES IN TIME #2 [*]

$3.99

IDW

11,334

204

9.60

FAIREST #27 (MR)

$2.99

DC

11,329

205

9.58

TRINITY OF SIN PANDORA #13

$2.99

DC

11,299

206

9.53

SMALLVILLE SEASON 11 LANTERN #4

$3.99

DC

11,243

207

9.51

STAR TREK CITY O/T EDGE OF FOREVER #2 [*]

$3.99

IDW

11,224

208

9.51

ARMOR HUNTERS #2 [*]

$3.99

VAL

11,224

209

9.32

ALL NEW DOOP #4

$3.99

MAR

10,992

210

9.29

ARMY OF DARKNESS HITCHED #1

$3.99

DE

10,956

211

9.24

LIFE AFTER #1 (MR) [*]

$3.99

ONI

10,899

212

9.20

X-FILES SEASON 10 #14

$3.99

IDW

10,850

213

9.04

RAI #3

$3.99

VAL

10,665

214

8.93

SQUIDDER #1 [*]

$3.99

IDW

10,537

215

8.82

ADV TIME BANANA GUARD ACADEMY #1

$3.99

BOO

10,402

216

8.77

TEN GRAND #10 (MR)

$2.99

IMA

10,354

217

8.77

TINY TITANS RETURN TO THE TREEHOUSE #2 [*]

$2.99

DC

10,352

218

8.76

X-FILES YEAR ZERO #1

$3.99

IDW

10,333

219

8.74

LEGENDERRY A STEAMPUNK ADV #5

$3.99

DE

10,317

220

8.66

DEADLY HANDS OF KUNG FU #3

$3.99

MAR

10,221

221

8.65

CHASTITY #1 LUPACCHINO

$3.99

DE

10,208

222

8.60

TOMB RAIDER #6

$3.50

DAR

10,149

223

8.55

STAR TREK ONGOING #35

$3.99

IDW

10,089

224

8.53

TRANSFORMERS MORE THAN MEETS EYE #31 DAWN O/T AUTOBOTS

$3.99

IDW

10,063

225

8.52

SMALLVILLE SEASON 11 SPECIAL #5

$4.99

DC

10,057

226

8.48

ADVENTURES OF SUPERMAN #15

$3.99

DC

10,004

227

8.48

IRON PATRIOT #5

$3.99

MAR

10,001

228

8.46

LUMBERJANES #4

$3.99

BOO

9,988

229

8.42

REVIVAL #22 (MR)

$2.99

IMA

9,931

230

8.25

GOON OCCASION OF REVENGE #1

$3.50

DAR

9,736

231

8.02

HACK SLASH SON OF SAMHAIN #1 (MR)

$3.50

IMA

9,466

232

8.01

THIEF OF THIEVES #22 (MR)

$2.99

IMA

9,457

233

8.00

NEW VAMPIRELLA #2

$3.99

DE

9,445

234

7.99

TUKI SAVE THE HUMANS #1

$3.99

CAR

9,425

235

7.86

SATELLITE SAM #9 (MR)

$3.50

IMA

9,271

236

7.78

X-O MANOWAR #27 REG SEPULVEDA (AH)

$3.99

VAL

9,183

237

7.78

CONAN THE AVENGER #4

$3.50

DAR

9,182

238

7.74

TRANSFORMERS WINDBLADE #4 DAWN O/T AUTOBOTS

$3.99

IDW

9,130

239

7.72

SHUTTER #4 (MR)

$3.50

IMA

9,107

240

7.64

RED SONJA #0

$3.99

DE

9,009

241

7.62

CALIBAN #4 (MR)

$3.99

AVA

8,986

242

7.60

SONIC THE HEDGEHOG #262

$2.99

ARC

8,971

243

7.50

WOODS #3

$3.99

BOO

8,852

244

7.48

BORDERLANDS FALL OF FYRESTONE #1

$3.99

IDW

8,830

245

7.43

HARBINGER #25

$4.99

VAL

8,766

246

7.38

TRANSFORMERS ROBOTS IN DISGUISE #31 DAWN O/T AUTOBOTS

$3.99

IDW

8,706

247

7.19

UNITY #9 REG SUAYAN (AH)

$3.99

VAL

8,485

248

7.13

BLACK MARKET #1

$3.99

BOO

8,414

249

7.11

COFFIN HILL #9 (MR)

$2.99

DC

8,393

250

7.10

BATWING #33

$2.99

DC

8,380

251

7.03

CALIBAN #5 (MR)

$3.99

AVA

8,300

252

6.97

SCOOBY DOO TEAM UP #5 [*]

$2.99

DC

8,220

253

6.92

KING CONAN CONQUEROR #6

$3.50

DAR

8,171

254

6.88

APHRODITE IX CYBER FORCE #1

$5.99

IMA

8,115

255

6.86

CHAOS #3 MAIN

$3.99

DE

8,097

256

6.86

BPRD HELL ON EARTH #121

$3.50

DAR

8,092

257

6.80

GOD IS DEAD #16 (MR)

$3.99

AVA

8,029

258

6.61

CARTOON NETWORK SUPER SECRET CRISIS WAR #2 [*]

$3.99

IDW

7,800

259

6.58

GOD IS DEAD #17 (MR)

$3.99

AVA

7,759

260

6.50

SONIC UNIVERSE #65

$2.99

ARC

7,664

261

6.46

ELFQUEST FINAL QUEST #4

$3.50

DAR

7,622

262

6.42

STAR TREK SPECIAL FLESH & STONE #1

$3.99

IDW

7,576

263

6.38

TWILIGHT ZONE #6

$3.99

DE

7,528

264

6.37

ARMOR HUNTERS HARBINGER #1

$3.99

VAL

7,518

265

6.33

GFT GRIMM FAIRY TALES #99 (MR)

$2.99

ZEN

7,472

266

6.33

ABE SAPIEN #14

$3.50

DAR

7,469

267

6.32

UBER #15 (MR)

$3.99

AVA

7,456

268

6.27

SONS OF ANARCHY #11 (MR)

$3.99

BOO

7,394

269

6.24

VERTIGO QUARTERLY #1 MAGENTA (MR)

$7.99

DC

7,360

270

6.23

TUROK DINOSAUR HUNTER #6 SEARS

$3.99